Sweet Potato Bundt Cake (Gluten-Free)
Sweet Potato Bundt Cake (Gluten-Free)
Published 12/3/2008

Unrated
Jules Shepard
Atop each of Jules Shepard's free weekly recipe newsletters is her mantra: "Perfecting Gluten-Free Baking, Together." From her easy-to-read cookbook ("Nearly Normal Cooking for Gluten Free Eating") to her highly rated reference for making the transition to living gluten free easier ("The First Year: Celiac Disease and Living Gluten Free"), Jules is tireless in the kitchen, at the keyboard and in person in helping people eating gluten free do it with ease, with style and with no compromises.
 
In the kitchen, she creates recipes for beautiful, tasty gluten-free foods that most people could never tell are gluten free. As a writer, she produces a steady stream of baking tips, living advice, encouragement and insights through magazine articles, her web site (gfJules.com), newsletter, e-books and on sites like http://celiac.com and others. Jules also maintains a busy schedule of speaking at celiac and gluten-free gatherings, appearing on TV and radio shows, baking industry conventions, as well as teaching classes on the ease and freedom of baking at home.
 
Her patent-pending all-purpose flour literally has changed lives for families who thought going gluten free meant going without. Thousands read her weekly newsletter, follow her on Twitter and interact with her on FaceBook. Â 
View all articles by Jules Shepard
This recipe calls for my Nearly Normal All Purpose Flour™. You can find the recipe for this flour in my cookbook, Nearly Normal Cooking for Gluten-Free Eating or in various media links on my website, or you can also this truly all purpose flour ready-made at my site. It produces amazing results in all your gluten-free baking.

Sweet Potato Bundt Cake

The leaves are nearly gone, but sweet potatoes and pumpkins are still calling to me from my kitchen! I decided to experiment with sweet potato cake – something I haven't tried yet (I love challenges!). This one is light, mild and oh so yummy! I offer two possible glazes, but it's nice on its own too. Enjoy!

Ingredients:
2 ⅔ cup Nearly Normal All Purpose Flour™
1 tablespoon gluten-free baking powder
½ teaspoon guar gum (optional)
1 cup granulated sugar
¼ cup brown sugar
1 package gluten-free vanilla instant pudding dry mix (3.4 oz)
Dash of salt
1 teaspoon cinnamon
½ teaspoon nutmeg
1 teaspoon cardamom (or 2 ½ teaspoons pumpkin pie spice in lieu of the 3 separate spices)
2 teaspoons gluten-free vanilla extract
¼ cup vanilla yogurt (soy or dairy)
4 eggs or egg replacer equivalent
½ softened butter or Earth Balance Buttery Sticks (vegan alternative)
2 tablespoons ground flax seeds or flax seed meal
¼ cup boiling water
1 large cooked, peeled and mashed sweet potato (approx. 1 cup)
Directions:
Preheat oven to 325 F static or convection setting.

Boil ¼ cup of water and add flax seed meal. Stir and set aside. Cook, peel and mash the sweet potato and set aside.

In a large mixing bowl, stir the eggs or egg replacer until well mixed. To the eggs, add all dry ingredients, yogurt, vanilla and softened butter or Buttery Sticks. Mix well then stir in the slightly cooled flax seed meal and the mashed sweet potato last.

Butter or oil a bundt pan and dust with Nearly Normal All Purpose Flour™ or corn starch. Pour the well-mixed batter into the pan and smooth out the top with a rubber spatula. Bake in preheated static oven for approximately 50 minutes or convection oven for approximately 35 minutes. The cake is done when a cake tester inserted into the center comes out clean. Let the cake sit in the pan until slightly cooled, then invert onto a serving plate.

Glazes:

Lemon Glaze:
1 cup sifted powdered sugar
1 teaspoon finely shredded lemon peel
3 teaspoons milk
1 teaspoon lemon juice
Mix all the ingredients together until smooth. Drizzle over top of the cake.

Honey-Orange Glaze:
½ cup honey
1 teaspoon finely shredded orange peel
½ cup orange juice (with or without pulp)
Combine ingredients in a small saucepan over medium-high heat. Stir until boiling and remove from heat. Let sit until slightly cooled, then drizzle over the cake.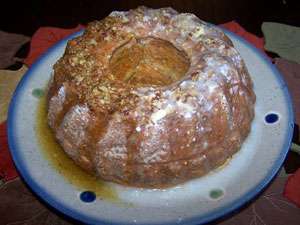 The finished Sweet Potato Bundt Cake (Gluten-Free)
Celiac.com welcomes your comments below (registration is NOT required).
Get Email Alerts (More Info)
Article Options