Luna & Larry's Coconut Bliss Gluten-Free and Non-Dairy Dark Chocolate Ice Cream
Luna & Larry's Coconut Bliss Gluten-Free and Non-Dairy Dark Chocolate Ice Cream
Scott Adams
In 1994 I was diagnosed with celiac disease, which led me to create Celiac.com in 1995. I created this site for a single purpose: To help as many people as possible with celiac disease get diagnosed so they can begin to live happy, healthy gluten-free lives. Celiac.com was the first site on the Internet dedicated solely to celiac disease, and since then it has become an invaluable resource to people worldwide who seek information about celiac disease and the gluten-free diet.

In 1998 I created The Gluten-Free Mall, Your Special Diet Superstore! which was also another Internet first—it was the first gluten-free food site to offer a shopping cart-style interface, and the ability for people to order gluten-free products manufactured by many different companies at a single Web site.

I am also co-author of the book Cereal Killers, and founder and publisher of Journal of Gluten Sensitivity.
View all articles by Scott Adams
The other night I picked up a pint of Dark Chocolate Coconut Bliss organic ice cream from my local market, and my family and I had it for dessert. Coconut is all the rage now because it's packed with essential
fatty acids
, and we've been looking for healthier alternatives to normal ice cream. Our family could not have been more pleased; Coconut Bliss delivered with a creamy tasting full-flavored ice cream that left nothing to be desired, even though it was in fact gluten, soy, and dairy-free—and it's even organic. We will definitely buy it again!
Web site:
http://www.coconutbliss.com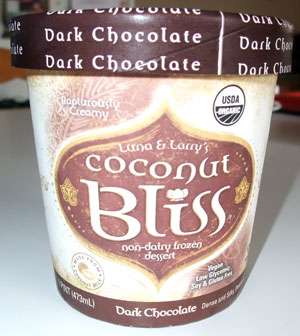 As always, Celiac.com welcomes your comments (see below).
Get FREE Celiac.com email alerts (1-3 email per month with the latest celiac disease research and information, gluten-free recipes, etc.).