Gluten-Free Camp Improves Quality of Life
Gluten-Free Camp Improves Quality of Life
Published 07/19/2010

Unrated
Destiny Stone
I diagnosed myself for gluten intolerance after a lifetime of bizarre, seemingly unrelated afflictions. If my doctors had their way, I would have already undergone neck surgery, still be on 3 different inhalers for asthma, be vomiting daily and having chronic panic attacks. However, since eliminating gluten from my diet in May 2009, I no longer suffer from any of those things. Even with the proof in the pudding (or gluten) my doctors now want me to ingest gluten to test for celiac-no can do.
View all articles by Destiny Stone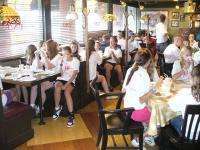 Gluten-Free Camp
This article originally appeared in the Spring 2010 edition of Celiac.com's Journal of Gluten-Sensitivity.
Celiac.com 07/19/2010 - Thinking about sending your youth to a gluten-free camp, but not sure if the benefits outweigh the cost? A new study was conducted to determine the quality of life among young celiac campers and it is indicating that camp may not only be fun for younger celiacs, but also improve their general well-being, self-perception and emotional outlook.
The Department of Pediatrics, University of California San Francisco, recently published the results of a study they administered which indicates strong evidence that gluten-free camp is important to the physical and emotional well-being of young celiac patients. The study surveyed 104 celiac youth, 7-17 years old who attended a gluten-free camp. Before, and after attending the camp, each camper was given a 14-question survey, using a Likert scale, to evaluate their emotional outlook, overall well-being and self-perception.
Of the 77 campers that completed the survey before and after attending the camp, all of them showed marked improvement in all three categories and were found to greatly benefit from
Interestingly, campers who had been on a gluten-free diet for less than four years were more positively impacted by the gluten-free camps than were the campers who had been on a gluten-free diet for more than four years. The difference in results between the newer gluten-free campers and the more experienced gluten-free campers suggests that, over time, adaption to celiac disease can decrease the social anxieties that are often associated with the disease. To accurately test the endurance of these findings, once a young celiac has returned to normal daily activities, more tests will be needed. For now, it is safe to assume that not only is camp a great break for you and your kids, it is also important for their overall health and general well-being.
Source:
As always, Celiac.com welcomes your comments (see below).
Get Email Alerts (More Info)
Article Options