Apple Pumpkin Strudel (Gluten-Free)
Apple Pumpkin Strudel (Gluten-Free)
Amie Valpone
Amie Valpone, HHC, AADP is a Manhattan based Personal Chef, Culinary Nutritionist, Professional Recipe Developer and Food Writer specializing in easy Gluten-Free and Dairy-Free recipes. Amie is the Editor-in-Chief of the gluten-free blog, The Healthy Apple.  Amie shares her passion for and approach to 'Clean Eating' by focusing on natural, whole foods and ingredients that are good for you and your body. Not limiting her focus to companies and brands, Amie works hands-on with individuals and groups as a Food Allergy Concierge and Healthy Family Pantry Stylist to guide them through their transition into a healthier lifestyle. Amie works with Whole Foods Market as their Gluten-Free Manhattan Cooking Instructor and is a Gluten-Free Industry Innovator when it comes to helping clients, the community, companies and client live a healthy and happy life. Visit her site at: thehealthyapple.com.

Amie works one-on-one with people in person and via Skype or phone to help make their lives easier and taking the stress of "thinking it's hard to live with food allergies and/or celiac."
View all articles by Amie Valpone
Here's a fun n' tasty Gluten-Free and Dairy-Free recipe for Apple Pumpkin Strudel that is quite unique from your traditional apple pie or apple crumble....perfect for the holidays or for a casual dinner party dessert. Enjoy!
Pumpkin Apple Strudel
Gluten-Free and Dairy-Free
Makes 8 Strudels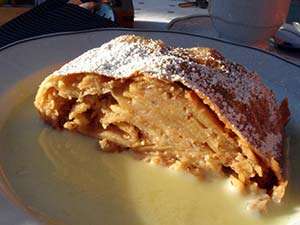 Ingredients:
8 large organic Granny Smith apples, peeled and sliced
1 (15 oz.) can pumpkin puree
1 Tbsp. sugar
1/4 cup fresh rosemary, very finely chopped
1/4
1 Tbsp. ground cinnamon, plus more for topping
1/6 tsp. all-spice
1 1/2 cup Gluten-Free All-Purpose Flour (I used Bob's Red Mill)

1 tsp. baking powder
1/4 tsp. sea salt
1/4 tsp. fresh organic lemon zest
2 Tbsp. freshly squeezed organic lemon juice
1/4 tsp. gluten-free almond extract
2 large eggs
Directions
:
Preheat oven to 350 degrees F. Spray a baking dish with nonstick baking spray. Sprinkle with 1 Tbsp. sugar and rosemary. Add sliced apples and pumpkin puree; spread evenly.
In a large bowl, combine flour, sugar, baking powder, sea salt and orange zest. Add orange juice, almond extract and egg; mix well to combine and form a mealy texture. Transfer mixture on top of apples in the baking dish. Sprinkle with additional ground cinnamon.
Bake for 45-60 minutes or until golden brown.
Enjoy!
As always, Celiac.com welcomes your comments (see below).
Get Email Alerts (More Info)
Article Options