Fresh Mozzarella Brussels Sprout Pizza (Gluten-Free)
Fresh Mozzarella Brussels Sprout Pizza (Gluten-Free)
Amie Valpone
Amie Valpone, HHC, AADP is a Manhattan based Personal Chef, Culinary Nutritionist, Professional Recipe Developer and Food Writer specializing in easy Gluten-Free and Dairy-Free recipes. Amie is the Editor-in-Chief of the gluten-free blog, The Healthy Apple.  Amie shares her passion for and approach to 'Clean Eating' by focusing on natural, whole foods and ingredients that are good for you and your body. Not limiting her focus to companies and brands, Amie works hands-on with individuals and groups as a Food Allergy Concierge and Healthy Family Pantry Stylist to guide them through their transition into a healthier lifestyle. Amie works with Whole Foods Market as their Gluten-Free Manhattan Cooking Instructor and is a Gluten-Free Industry Innovator when it comes to helping clients, the community, companies and client live a healthy and happy life. Visit her site at: thehealthyapple.com.

Amie works one-on-one with people in person and via Skype or phone to help make their lives easier and taking the stress of "thinking it's hard to live with food allergies and/or celiac."
View all articles by Amie Valpone
A unique take on a healthy pizza! This is a must try recipe, especially if you like Brussels sprouts.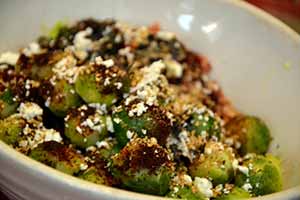 Ingredients:
4 Tbsp. olive oil
2 cloves garlic, pressed
1 large Roma tomato, thinly sliced
¼ cup pine nuts
8 oz fresh mozzarella, shredded
2 cups fresh Brussels sprouts, halved
2 Tbsp. sesame seeds
1 tsp. chili powder
1
Directions:
Preheat oven to 350 degrees F.
In a large skillet over medium flame, heat olive oil and garlic; cook for 2 minutes. Add tomato, onion and Brussels sprouts. Cook for 10-15 minutes or until Brussels sprouts are soft.
Transfer mixture to a food processor; pulse until smooth.
Spread gluten-free crust on a flat surface; add fresh mozzarella, followed by Brussels sprouts mixture. Sprinkle with pine nuts. Line the outside crust with a sprinkle of sesame seeds.
Place pizza onto a pizza stone or baking sheet; bake for 15-20 minutes or until golden brown and crispy. Top with chili powder.
Enjoy.
As always, Celiac.com welcomes your comments (see below).
Get Email Alerts (More Info)
Article Options