Celiac.com 12/24/2012 - Like many people, I associate the holidays with delicious desserts and yummy baked goods. As a child, holidays meant ovens warming the house, delicious smells filling the rooms, counter tops brimming with wonderful treats. Homemade desserts and baked goods bring these things and more to the holidays. They bring smiles to the faces of friends and guests and family. They bring joy to the heart.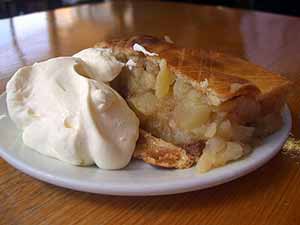 However, for people with gluten-sensitivity or celiac disease, making tasty desserts and baked goods comes with extra challenges. Not only do they need to avoid wheat and flour, they need to find recipes that match the taste and texture and goodness of favorites that are now off-limits.
In fact, these challenges have inspired us to include links to some of our best loved and most delicious gluten-free holiday recipes. To help you bring delicious desserts and baked goods to your holiday table, here is a recipe for a delicious gluten-free apple pie, followed by links to some of our best loved gluten-free desserts and baked goods.
This pie crust recipe comes from King Arthur Flour


Great Gluten-free Apple Pie
Gluten-free Pie Crust Ingredients (Makes 1 crust):
1¼ cups King Arthur Gluten-Free Multipurpose Flour
1 tablespoon sugar
½ teaspoon xanthan gum
½ teaspoon salt
6 tablespoons cold butter
1 large egg
2 teaspoons lemon juice or vinegar
Apple Pie Filling Ingredients:
6 cups thinly sliced, peeled apples (6 medium)
¾ cup sugar
2 tablespoons King Arthur Gluten-Free Multipurpose Flour
¾ teaspoon ground cinnamon
¼ teaspoon salt
1 tablespoon lemon juice
Directions:
Heat oven to 425°F. Place 1 pie crust in un-greased 9-inch glass pie plate. Press firmly against side and bottom.
In large bowl, gently mix filling ingredients; spoon into crust-lined pie plate. Top with second crust. Wrap excess top crust under bottom crust edge, pressing edges together to seal; flute. Cut six v-shaped slits in several places into the top crust.
Bake 40 to 45 minutes or until apples are tender and crust is golden brown. Cover edge of crust with 2- to 3-inch wide strips of foil after first 15 to 20 minutes of baking to prevent excessive browning. Cool on cooling rack at least 2 hours before serving.
Tips for Better Baking:
Baking on high heat at the beginning will help prevent sogginess on the bottom of the crust.
For best results, use a metal pie pan. Aluminum works best. Bake at 425°F on the bottom rack of your oven for 20 minutes, then reduce the heat to 350°F, move your pie to the middle rack, and continue to bake until the crust is golden and the filling is bubbly (40-45 minutes total baking time).
Brushing the crust lightly with milk and sprinkling it with sugar will help the crust to brown better, and will also give a nice sparkle and sweet crunch to your finished pie.
Here are links to some of our best loved gluten-free desserts and baked goods (Note: King Arthur Gluten-Free Multi-Purpose Flour will work well in place of regular wheat flour most of these recipes, so feel free to substitute as you like):