Amie Valpone
Amie Valpone, HHC, AADP is a Manhattan based Personal Chef, Culinary Nutritionist, Professional Recipe Developer and Food Writer specializing in easy Gluten-Free and Dairy-Free recipes. Amie is the Editor-in-Chief of the gluten-free blog, The Healthy Apple. Amie shares her passion for and approach to "Clean Eating" by focusing on natural, whole foods and ingredients that are good for you and your body. Amie works with Whole Foods Market as their Gluten-Free Manhattan Cooking Instructor and is a Gluten-Free Industry Innovator when it comes to helping clients, the community, companies and client live a healthy and happy life. Visit her site at: thehealthyapple.com.
Articles by this Author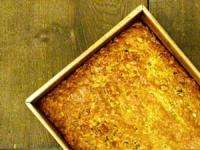 Here's a quick and easy zucchini bread recipe that's gluten-free, sweetened with pine nuts, almonds and dried cranberries. It's tasty to toast for breakfast with a spread of nut butter or served as dessert with a dollop of Greek yogurt and honey.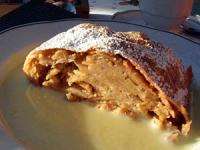 The finished apple strudel. CC--acme
Here's a fun n' tasty Gluten-Free and Dairy-Free recipe for Apple Pumpkin Strudel that is quite unique from your traditional apple pie or apple crumble....perfect for the holidays or for a casual dinner party dessert. Enjoy!
Photo: Jefferson Adams
What's a Thanksgiving without savory stuffing and sweet pumpkin pie? Well, it surely isn't Thanksgiving to me; anything can be delicously gluten-free with a bit of imagination and creativity.