Anemia and Celiac Disease
Anemia and Celiac Disease
This category contains summaries of research articles that deal with anemia and it's association with celiac disease. Most of the articles are research summaries that include the original source of the summary.
Published 06/9/2014
Rating: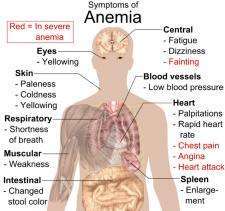 Image--Wikimedia Commons
Anemia is extremely common in patients with celiac disease. In some cases, anemia may be the sole manifestation of celiac disease, but there is no good data on rates of celiac disease in Indian patients with nutritional anemia.
Published 09/5/2013
Rating:



Photo: CC--Commons
A team of researchers recently set out to determine whether people with anemia have more severe celiac disease than people with diarrhea.
Published 07/29/2013
Rating:



Photo: CC--Wikimedia Commons
A team of researchers recently looked at for links between celiac disease and iron deficiency in both caucasians and non-caucasians.
This article summarizes the various autoimmune diseases that are known to occur in increased frequency in persons with the DQ8 gene, and calls for more research as to what role gluten may play in triggering these other autoimmune diseases.
South Med J. 2004;97:30-34 Celiac.com 03/30/2004 – According to Umaprasanna S. Karnam, MD (
Br J Haematol 2000;111:898-901. Celiac.com 02/15/2001 - As reported in the December issue