Celiac Disease & Gluten Intolerance: A Theory of Their Origins
Celiac Disease & Gluten Intolerance: A Theory of Their Origins
In this category you will find articles that cover ideas about how celiac disease came about, including theories of evolution, speculation on the underlying cause of the disorder, and information on the original doctors who studied and discovered celiac disease.

Published 11/6/2013
Rating:



Photo: CC--IvanWalsh.com
Some researchers have questioned whether celiac disease may have arisen as a side effect of recent genetic adaptations since the domestication of wheat about 10,000 years ago.
Published 06/24/2013
Rating:



Photo: CC--Dave Pearson
Researchers don't know much about the genetic history of celiac disease. They know especially little about the age of specific gene sequences that leave people at risk for developing celiac disease.
Published 03/27/2013
Rating: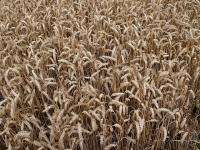 Photo: CC--D. H. Wright
Increased rates of celiac disease over the last fifty years are not linked to wheat breeding for higher gluten content, but are more likely a result of increased per capita consumption of wheat flour and vital glutens, says a scientist working with the US Department of Agriculture (USDA).
Published 07/4/2012
Rating:



It is becoming increasingly clear that celiac disease affects many more people in the world than estimates from the past few decades suggested. Seeking to explain why this sizable portion of our population cannot tolerate gluten, Professor David Sanders, who is a Consultant Gastroenterologist at the Royal Hallamshire Hospital and University of Sheffield, looks to evolution for answers.
Published 09/9/2011
Rating: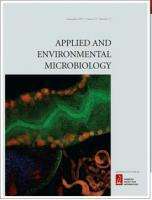 A team of researchers recently set out to assess the effects of milk-feeding behavior and the HLA-DQ genotype on intestinal colonization of Bacteroides species in infants with a risk of developing celiac disease.
Published 11/29/2010
Rating:



New article in Nature supports stone age human consumption of flours.
Recent archeological evidence in the form of starch from ground grains found at Stone Age sites suggests early modern humans also consumed various kinds of flour, not just meat alone.
Published 06/15/2010

Unrated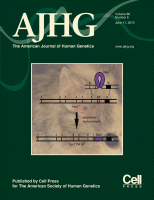 SH2B3 offers protection against bacterial infection.
A clinical team conducted a functional analysis of celiac risk loci, and found that SH2B3 offers protection against bacterial infection. The research team scientists hypothesize that the high prevalence of celiac disease might suggest that the process of natural selection favors genes that trigger celiac disease, and thus, that the gene may convey some evolutionary advantage to those who inherit them.
Published 05/14/2010
Rating: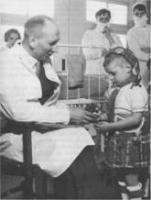 Willem-Karel Dicke treats a patient Circa 1955.
This article originally appeared in the Spring 2009 edition of Journal of Gluten Sensitivity.
Willem-Karel Dicke was a Dutch pediatrician, and the first clinician to develop the gluten-free diet, and to prove that certain types of flour cause relapses in celiac disease patients.
Published 03/4/2009
Rating:



Millions of people currently suffer from a potentially deadly condition that can have little or no symptoms, but is easily diagnosed and treated. The condition is called celiac disease, and it is caused by an adverse autoimmune reaction to gliadin (found in wheat gluten), secalin (found in rye gluten), or horedin (found in barley gluten).
Previously, the possible link between gut bacteria and celiac disease has been discussed in "Do Vitamin D Deficiency, Gut Bacteria, and Gluten Combine in Infancy to Cause Celiac Disease?" A 5-year European study, DIABIMMUNE, is currently underway focusing on some 7000 children, from birth, investigating the development of intestinal bacterial flora and its influence on the development of the human immune system and autoimmune disease, including celiac disease. Hopefully, this study will provide some much needed answers. Now a Spanish group of scientists has produced further evidence supporting a possible role for gut bacteria in the pathogenesis of celiac disease by investigating whether gut microflora present in the feces of celiac disease patients participates in the pro-inflammatory activity of celiac disease.
Do vitamin D deficiency, gut bacteria, and timing of gluten introduction during infancy all combine to initiate the onset of celiac disease? Two recent papers raise the potential that this indeed may be the case. One paper finds that when transgenic mice expressing the human DQ8 heterodimer (a mouse model of celiac disease) are mucosally immunized with gluten co-administered with Lactobacillus casei bacteria, the mice exhibit an enhanced and increased immune response to gluten compared to the administration of gluten alone. A second paper finds that vitamin D receptors expressed by intestinal epithelial cells are involved in the suppression of bacteria-induced intestinal inflammation in a study which involved use of germ-free mice and knockout mice lacking vitamin D receptors exposed to both friendly and pathogenic strains of gut bacteria. Pathogenic bacteria caused increased expression of vitamin D receptors in epithelial cells. Friendly bacteria did not.
The subject of this paper is one which has not been described, to my knowledge, in any of the text-books, either on general medicine or on the diseases of children. As it is one of great importance, and one which is readily overlooked, even by excellent physicians, I have thought that it would be of interest to publish a few of the cases which have come under my own observation of this somewhat uncommon disease. These cases are very similar, and it is therefore unnecessary to burden my paper with more than four, which will serve as examples of all.
We have recently reported on Lancet (1) a consistent cohort of patients affected by drug-resistant epilepsy with cerebral calcifications, half of which were cured by a gluten-free diet. All had an atrophic jejunal mucosa, which recovered on a gluten free diet. Gluten intolerance is now a recognized cause of brain calcifications and epilepsy, of dementia, of psychiatric disturbances: many researchers believe that, in genetically predisposed subjects, gluten is not healthy for the brain function (2).