Skin Problems and Celiac Disease
Skin Problems and Celiac Disease
This category contains summaries of research articles that deal with skin problems and it's association with celiac disease. Most of the articles are research summaries that include the original source of the summary.
Published 07/15/2011
Rating: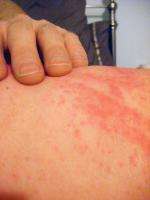 Photo: CC--guins
Doctors have successfully treated patients with both gastrointestinal and skin disorders by testing for food sensitivities and avoiding foods that provoke those sensitivities.
Pediatric Allergy and Immunology Volume 16 Issue 5 Page 428 - August 2005 Celiac.com 09/27/2005
J Allergy Clin Immunol 2004;113:1199-1203. Celiac.com 07/30/2004 - According to a study by Italian