Gluten-Free Brazilian & South American Recipes
Gluten-Free Brazilian & South American Recipes
Gluten-Free Brazilian & South American Recipes - Please submit your favorite gluten free recipes here by
registering as an author
on our site. Your recipes will appear here and help thousands of other people with celiac disease.
Note: You can buy many types of prepared gluten-free Brazilian and South American foods and the ingredients used in these recipes at
Gluten-Free Mall
Published 08/7/2013
Rating: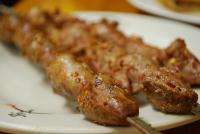 The finished marinated chicken hearts. Photo: CC--avlyxyz
Marinated chicken hearts are a common menu item in many bars in South America, especially in Brazil. But they don't get much plate time in the States. This recipe is meant to help change that.
Published 03/10/2011
Rating: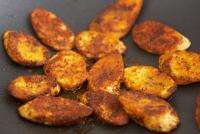 The finished plantains with honey butter. Photo: CC-FoodThinkers
"Platano" is the Spanish word for the fruit we Americans know as the plantain. The plantain is a heartier older cousin of the sweet, commercial banana, and a fruit I think is underused here in America.
Published 11/8/2010
Rating: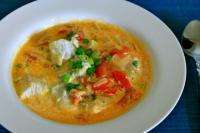 The finished gluten-free Brazilian fish stew. Photo: CC-AmySelleck
For anyone looking to turn a culinary corner into slightly more exotic fare, consider this wonderful Brazilian-style Fish Stew. This is an easy version of a common Brazilian dish that never fails to please, even among people who don't usual enjoy fish. It's not only tasty, it's easy to make, healthy, nutritious and yummy.
Published 08/13/2010
Rating: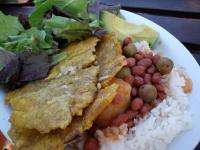 Photo: CC/Wonderyort
Plantains are commonly used for cooking in most tropical regions. Under ripe plantains or green plantains have a starchy texture, whereas overripe plantains have a sweeter taste; both are delicious. This recipe works best with green plantains, and it is dairy, egg, corn and gluten-free.
This recipe comes to us from "lonewolf" in the
Gluten-Free Forum
.
This are a fantastic snack that everyone will love, especially kids!
This recipe comes to us from Danna Korn. Ingredients: 2 tablespoons lime juice 1/8 teaspoon whi
This recipe comes to us from Paula Santos. Ingredients: 3 medium sized cooked sliced carrots 4
This recipe comes to us from Paula Santos. 1 medium sized cooked mashed potato 1 egg yolk 4 table