Gluten-Free Recipes: Biscuits, Rolls & Buns
Gluten-Free Recipes: Biscuits, Rolls & Buns
Gluten-Free Recipes: Biscuits, Rolls & Buns - Please submit your favorite gluten free biscuit or roll/bun recipe here by
registering as an author
on our site. Your recipes will appear here and help thousands of other people with celiac disease.
Note: You can buy many types of prepared gluten-free biscuits, rolls and buns and the ingredients used in these recipes at
Gluten-Free Mall
Published 06/30/2010
Rating: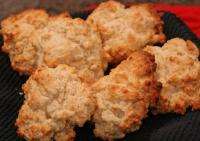 Photo: CC/biskuit
I miss biscuits more than anything. Before going gluten-free, I loved to eat biscuits and gravy, strawberry shortcake (on homemade biscuits) and warm biscuits with honey! There is nothing that compares with the satisfaction of eating a warm homemade biscuit.
This recipe comes to us from Fiddle-Faddle in the Gluten-Free Forum. This is an adaptation of Robyn Ryberg's biscuits, found here on celiac.com.
This recipe comes to us from Cindy. Ingredients: ½ cup brown rice flour ½ cup white
This recipe comes to us from Liz Wolf. Ingredients: 2 cups gluten-free flour mix* 1/3 cup + 1 ta
This recipe comes to us from Becky Ilog. Ingredients: 2 packages of active dry yeast 1 and one ha
A: Mix and let rise: ½ cup warm water, 1 tablespoon gluten-free yeast, 1 teaspoon sugar.
This recipe comes to us from the Denver Metro Chapter of CSA/USAs High Altitude Gluten-Free Cookbo
This recipe is a sampling from a new cookbook tentatively titled The Gluten-Free Baker by
This recipe comes to us from: Jane Conrad. Preheat oven to 400 degrees. Ingredients: ¾
This recipe comes to us from Nina. Makes 18 - 20 buns. Use the bread/roll recipe below, addin
Ingredients: makes 20 biscuits 1 oz or 25g cocoa powder 2 oz or 50g potato flour 2 oz or 50
Serving Size: 12 1 cup sorghum flour ¾ cup gluten-free Flour Blend ¼ cup Swee
This recipe comes to us from Elizabeth Griffith. Makes 12 biscuits. 1 cup gluten-free flour