Gluten-Free Recipes: Soups, Sauces, Dressings & Chowders
Gluten-Free Recipes: Soups, Sauces, Dressings & Chowders
Gluten-Free Recipes: Soups, Sauces, Dressings & Chowders - Please submit your favorite gluten free soup or sauce recipe here by
registering as an author
on our site. Your recipes will appear here and help thousands of other people with celiac disease.
Note: You can buy many types of prepared gluten-free soups and sauces and the ingredients used in these recipes at
Gluten-Free Mall
Published 11/2/2010
Rating: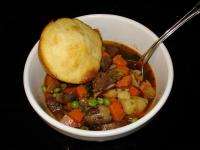 Hearty gluten-free vegetable beef soup and muffin. Photo--CC-bucklava
Rich, hearty, vegetable beef soup is one of my favorites. It's easy to make, nutritious and delicious. A steaming bowl of soup with a nice toasted slice of my favorite gluten-free bread, or a nice delicious chunk of gluten-free cornbread, and I'm in heaven.
Published 10/27/2010
Rating:



The finished gluten-free beef and mushroom soup. Photo: CC--EraPhernaglia Vintage
In this version of beef mushroom soup, tender, delicious beef, juicy, succulent mushrooms, and rich, tasty broth all come together with sherry and vegetables to consummate a kind of culinary love affair right on the kitchen stove. The result is an epicurean delight we know as beef and mushroom soup.
Published 07/27/2010

Unrated




Photo: CC/Hedonistin
Summer crops are in full abundance right now, and if your garden is anything like mine, you have more zucchini than you know what to do with. This vegan mango, zucchini soup is best served warm, but it can also be served cold and it is a nice light soup for a summer night that is too hot to eat heavy food.
This recipe comes to us from Dennis Dendinger.
This recipe comes to us from "sickchick" in the
Gluten-Free Forum
, and it is gluten, soy, dairy and nightshade free.
This recipe comes to us from Tiffany ("tarnalberry" in the Gluten-Free Forum). Ingred
This recipe comes to us from Chris Hansen. Makes about 2 cups Ingredients: 1 cup gluten-free butt
This recipe comes to us from Kimberly Dungan. In large stockpot add the following: 2-3 teas
1 teaspoon safflower oil 2 teaspoons dry sherry, or water 1-¼ cups onion, finely chopped
4 to 5 ears corn olive oil mirepoix (leeks, onions, carrots, and celery) basil chicken st