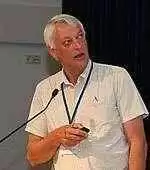 Caption: Frits Koning, PhD, Leiden University Medical Center
The Wm. K. Warren Medical Research Center for Celiac Disease at the University of California, San Diego is pleased to announce that the recipient of the 2011 William K. Warren, Jr. Prize for Excellence in Celiac Disease Research is Frits Koning, Ph.D.   Professor Koning has been head of the Immunochemistry Section in the Department of Immunohematology and Blood Transfusion of the Leiden University Medical Centre (LUMC), the Netherlands, since 1993. He is the chairman of the scientific advisory board of the LUMC and the CEO of the Dutch Celiac Disease Consortium (CDC), funded through a 11.7 million euro grant from the Dutch Government for the period 2004 - 2012. In the CDC, immunologists, geneticists, food specialists and medical doctors collaborate with industrial partners to develop practical solutions to improve the quality of life of patients with celiac disease.
Frits Koning received his Ph.D. from the University of Leiden and continued with postdoctoral studies at the NIH, Bethesda, USA where he identified γδ T cell receptors expressed by dendritic epidermal T cells. Back in Leiden he set up his own group within the LUMC and continued his research on the characterization and functionality of γδ T cell receptors in humans. Simultaneously he started to investigate the molecular basis for autoimmune diseases by determining the peptide-binding motifs specific for disease associated HLA-molecules. This work led to the identification of a peptide binding motif specific for HLA-DQ2 and subsequent work identified gluten peptides that could bind to the celiac disease associated HLA-DQ molecules and the realization that many of such peptides require modification by the enzyme tissue transglutaminase to facilitate high affinity binding to either HLA-DQ2 or HLA-DQ8 and the initiation of gluten-specific T cell responses. This provided a molecular explanation for the association between these HLA-DQ molecules and the development of celiac disease. Based on these results studies have been carried out to determine how gluten proteins can be detoxified and thus made suitable for consumption by celiac disease patients.
---
Celiac.com Sponsor (A12):


---
---
Celiac.com Sponsor (A12-m):


---
Presented annually by The William K. Warren Foundation, the $25,000 William K. Warren, Jr. Prize is awarded internationally to an individual or group who has made a significant contribution to the field of celiac disease research through basic, translational, or clinical research.  Professor Koning will be presented with the award on Friday, June 3 at the University of California, San Diego, at which time he will present the 2011 Warren Prize Lecture, "Celiac Disease: How Complicated Can It Get?" Details can be found on the Center website, at http://celiaccenter.ucsd.edu.