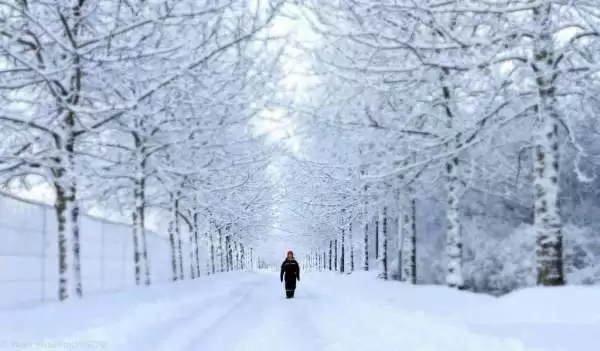 Caption: Image: CC BY-SA 2.0--Helgi Halldórsson/Freddi
Celiac.com 11/21/2020 - A light snow is falling and the air carries a December chill.  I am reminded of my brother's death on a similar day eleven short years ago.  During the preceding year, doctors refused to test my brother for celiac disease following his diagnosis with lymphoma.  Their stated reasons were that celiac disease is too rare to be considered, he showed none of the classic signs of celiac disease, and his lymphoma, a separate and more serious illness, needed to be addressed first.  One physician even stated that the gluten-free diet was nutritionally inadequate and it would deprive my brother of the meal-time pleasures of a regular diet "during the time he has left." Celiac disease, I was told, could be investigated after the lymphoma was resolved.  Concurrent and subsequent discussion revealed that my brother's death was the resolution they expected.  At that time, only a small pocket of researchers, along with a group of informed physicians (and others) who managed to stay current with the medical literature regarding celiac disease, were aware that it can be a large underlying contributor to lymphoma and other cancers, and institution of a gluten-free diet can provide some important benefits to those battling cancers in the context of celiac disease.  
Aside from the obvious objections to claiming that Jack would enjoy food—any food—during multiple courses of chemo and radiation therapy is suspect, and that it might have been valuable to forestall prophesying his death until after these treatments were at least begun, a number of larger objections arise out of these physicians' confident disregard for the medical and scientific literature.  The pervasive attitude was one that trivialized celiac disease and dismissed any other form of gluten sensitivity.  Fortunately, an emerging paradigm is supplanting these outdated prejudices and the last decade has witnessed huge gains in physicians' and public awareness of celiac disease.
---
Celiac.com Sponsor (A12):


---
---
Celiac.com Sponsor (A12-m):


---
Students of celiac disease, dermatitis herpetiformis, and gluten syndrome (non-celiac gluten sensitivity) know that gluten induced illness is far from rare and can manifest in an enormously wide range of signs and symptoms.  Turn-of-the-century publication of multi-center research has established that celiac disease, far from being rare, is found in about one percent of the U.S.  population.  Most of these individuals also lacked the classic signs and symptoms of celiac disease.  Further, the rate of gluten syndrome is at least ten times that of celiac disease, and gluten antibodies are very frequently found among those with neurological disease.  The research team headed by Marios Hadjivassiliou at the Royal Hallamshire Hospital in Sheffield, England has shown that more than half of patients suffering from neurological ailments of unknown origin are gluten sensitive.  (Most neurological diseases are of unknown origin.) Another group working at the University of Alberta, led by B. Yacyshyn, reported leaky gut in twenty five percent of a group of twenty multiple sclerosis patients, so gluten is an important suspect in at least some cases of one neurological disease that is fairly well characterized.  Another report of just two patients shows that a gluten-free diet can abolish islet cell antibodies that destroy insulin producing cells in the pancreas.  These antibodies are the basis of type I diabetes.  Other reports show that obesity can be induced by gluten and mediated by a gluten-free diet.  Still others report amelioration of psychiatric illnesses, behavioral abnormalities, and/or learning disabilities as the result of a gluten-free diet.  Most students of the gluten syndrome are learning about this wide range of signs, symptoms, and associated illnesses.  Many of us have experienced improved general health along with subtle improvements across a range of modalities and perceptions.  Many of us suspect that these changes exceeded what could be expected to arise from improved general health.  When learning about the protean manifestations of gluten induced illness, those suspicions are affirmed.  

It is through sharing this learning that celiac disease and gluten syndrome have begun a shift from the fringes of our culture to widespread, mainstream awareness of gluten induced illness in all its manifestations.  Much of the research community involved in celiac disease has led the way.  Increasingly informed (largely through the Internet) patients and their support groups have moved awareness of celiac disease from obscurity to mainstream in little over a decade.  Recognition of gluten syndrome lags far behind celiac disease, but is increasing rapidly.  The final, large step in this process of enlightenment is to assist those struggling, straggling, overworked general practitioners get up to speed on this most common illness.  These are the individuals who continue to ignore the literature on this topic.  They confidently dismiss the possibility of celiac disease or gluten syndrome on the basis of an out-dated, often prejudiced, largely erroneous understanding of gluten-induced illness as it was taught during their training.  

The sadness of my brother's passing has abated to the point where I can now think and talk about it without the sense of emptiness and loss that comes of knowing that I won't see him again—and without the anger and frustration borne of the widespread medical ignorance at the general practitioner level.  Today, I can freely share my brother's painful, final journey in the hope that it will hasten the abolition of the medical ignorance and arrogance that helped speed his untimely death.  I still struggle with the memory that my brother's doctors complained to Jack about my badgering them to test him for celiac disease.  They complained to a dying man about my annoying letters, while they ignored my repeated pleas that he be tested for celiac disease.  I am still chagrined by their dismissal of research showing a substantial genetic component in celiac disease, knowing full well that I, his brother, had previously been diagnosed with celiac disease.

During the eleven years since my brother's death, an emerging awareness of gluten mediated illness has blossomed throughout the industrialized world and has reached tentacles into the third world.  Although knowledge of the health hazards of gluten is spreading world-wide, recognition of gluten's threat to human health is still an emerging paradigm.  Another decade of dedicated effort on the part of support groups, researchers, and others, should have celiac disease appearing frequently in the differential diagnosis for an enormously wide range of signs and symptoms, with gluten syndrome following on its heels.  And perhaps a gluten-free, dairy-free diet will soon be standard fare for most cancer patients, freeing their immune systems to battle malignancies rather than gluten.