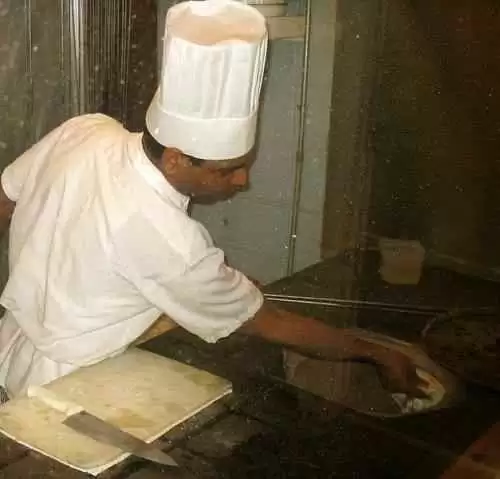 Caption: Photo: CC--Quadell
Celiac.com 06/25/2014 - Chefs can be instrumental in guaranteeing a gluten-free dining experience for people with celiac disease. However, otherwise competent and well-meaning chefs can get some basic things wrong about gluten-free food for people with celiac disease, including:

1) The Culprits are Wheat, Rye and Barley
Did you know that, in addition to avoiding anything made with wheat, or wheat flour, people with celiac disease can't eat anything made with rye or barley?
2) Cross-contamination is a Real Problem
The tiniest amounts of gluten, anything over 20 parts per million, can cause real and serious problems for people with celiac disease.
Eating gluten causes things like stomach cramps, nausea, dizziness, diarrhea and vomiting, and other unpleasantness for people with celiac disease. No chef wants a patron to leave feeling like that. That's why it's so important for any chef or cook offering gluten-free food owes it to it's patrons with celiac disease to get gluten-free right.
3) Gluten-free Ingredients Don't Guarantee Gluten-free Food
Once chefs master the basics about what is or is not gluten-free, the next step is to avoid cross-contamination when preparing, cooking and serving gluten-free food.
Do you cook gluten-free pasta in the same pot of water as regular pasta? Do you make gluten-free pizza in the same prep area or oven as regular pizza? Do you thicken soup, or sauce, or gravy with flour? Do you put croutons on salads? Do you cook regular and gluten-free foods in the same oven or grill? Do you use the same water to boil regular and gluten-free pasta?
If so, you are adding gluten to otherwise gluten-free food. That's a big no-no!
4) Best Practices for Guaranteeing Gluten-free Food
Practices like those listed above are part of the cross-contamination problem faced by so many people with celiac disease. Remember, there's no such thing as 'a little gluten' to people with celiac disease. To make sure you get it right, know the culprits wheat, barley and rye, be vigilant and watch for cross-contamination. Also, be sure to design and adopt a list of best practices for your particular kitchen that will guarantee a gluten-free dining experience for your patrons with celiac disease.
By all means, please feel free to share your ideas about what chefs get wrong, and/or can do to ensure a safe gluten-free dining experience for people with celiac disease.