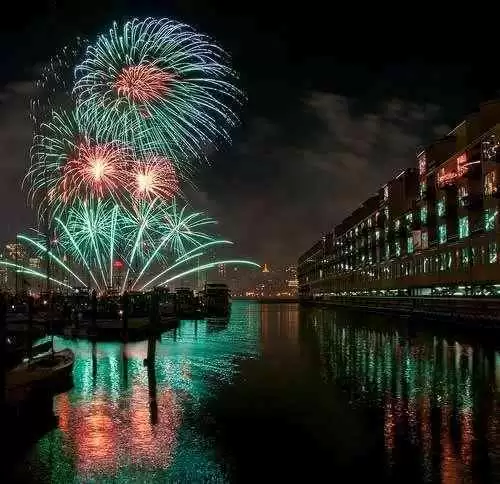 Caption: Gluten-free Fourth of July (photo courtesy of Bob Jagendorf)
Celiac.com 06/11/2010 - Most American parades and festivals revolve around good old fashioned American food. Most people will be enjoying  corn-dogs, french fries, waffle-cone sundaes and funnel cakes. Fourth of July celebrations are not likely to be very different from other festivals, and as a gluten-free person, it is important to be prepared for some good old fashioned American junk food-gluten-free.
Converting your favorite junk foods to gluten-free may take a bit of creativity, but don't despair, it is possible. There are places offering gluten-free junk food options, but making your own gluten-free junk food is fun and takes the worry out of cross-contamination. The following recipes and suggestions are some American favorites but gluten-free.

Funnel cakes are originally associated with the Pennsylvania Dutch part of the United States. Funnel cakes are often found at festivals, and popular events. Being gluten-free shouldn't mean the end of enjoying a popular American specialty dessert like funnel cakes, it simply means trying new gluten-free recipes that stand up to the traditional wheat flour cake. The following gluten-free funnel cake recipe is easy and only takes about 30 minutes to prepare. Make your cakes before the big event and take some to share, people won't believe they are gluten-free.

Gluten-Free French Fries
Don't let the name fool you. French fries are about as All-American as you get and crispy seasoned fries are even better. Try the following recipe for a yummy gluten-free seasoned french fry recipe.

Ingredients

2 1/2 pounds russet potatoes, peeled
1 cup gluten-free all-purpose flour 
1 teaspoon gluten-free garlic salt 
1 teaspoon gluten-free onion salt 
¾  teaspoon  Himalayan salt 
1 teaspoon gluten-free paprika 
½ to 1 cup water (add as needed)
1 cup vegetable or olive oil for frying

Directions
Slice potatoes into French fries size. If you prefer thicker french fries, cut your fries in larger pieces, and place into cold water so they won't turn brown while you prepare the oil.
Heat oil in a large skillet over medium-high heat. While the oil is heating, sift the flour, garlic salt, onion salt, Himalayan salt, and paprika into a large bowl. Gradually stir in enough water so that the mixture can be drizzled from a spoon.
Dip potato slices into the batter one at a time, and place in the hot oil so they are not touching at first. The fries must be placed into the skillet one at a time, or they will clump together. Fry until golden brown and crispy. Remove and drain on paper towels.
Gluten-Free Waffle Cones
Waffle cones are easy to make gluten-free. Ingredients will need to be gluten-free, but there are so many yummy gluten-free options these days when it comes to sweets. Make sure to buy gluten-free waffle cones and gluten-free chocolate sauce and gluten-free whipped cream (homemade is the best) and also gluten-free toppings. Put it all together with your favorite fruit and you have a waffle-cone sundae fit for a celebrity.

Have a safe and fun Fourth of July!