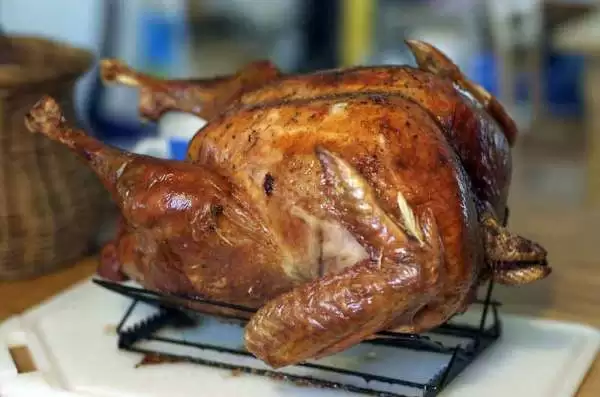 Caption: Image: CC BY 2.0--Tom Pierce
Celiac.com 11/23/2011 - What's a Thanksgiving without savory stuffing and sweet pumpkin pie? Well, it surely isn't Thanksgiving to me; anything can be delicously gluten-free with a bit of imagination and creativity.  Why waste your time worrying about what you can't eat at the holiday dinner table when you can prepare endless naturally gluten-free dishes such as fresh cranberry relish, roasted turkey, parsnip quinoa pilaf, roasted beets and asparagus, roasted red pepper tapenade with rice crackers, creamy pumpkin pudding and dark chocolate covered almonds?  All naturally gluten-free, all delicious. There's no need to dwell on the puffed pastries and succulent pumpkin pies staring you in the face when you can bake gluten-free versions using gluten-free flour blends.  This time of the year can be challenging for many folks trying to make healthy choices. It seems everywhere we turn there are sugarplums dancing in our heads and holiday gatherings offering cookies, desserts, cocktails and heavy casseroles.  Don't get down on yourself and dig into the platters loaded with sugar, unhealthy fats and salt; keep your head up and think about all the naturally gluten-free foods that are healthy and delicious.
Let's start with appetizers.  How about an antipasta filled with gluten-free organic cheese and organic sliced lean meats, fresh herbs, olives, roasted red peppers and marinades mushrooms. You can easily serve this with hummus and Greek plain yogurt as well as a flavorful tapenade.  Gluten-Free crackers and crudités are great to serve with these appetizers and can be enjoyed guilt-free for all of your gluten-free guests.
---
Celiac.com Sponsor (A12):


---
---
Celiac.com Sponsor (A12-m):


---
Moving on to your main course, go for the turkey but make sure to create your own brine as some pre-made turkeys are made with a gluten-ous glaze.  Mashed sweet potatoes? Check. Roasted vegetables? Check. Gluten-Free stuffing and gravy? Check and check.  Try making healthy gravy using low-sodium vegetable broth, dried oregano and low-fat milk; heat until mixture thickens.  And be sure to keep an eye on added salt. Season your dishes with fresh herbs such as thyme and marjoram along with balsamic vinegar and a small spoonful of Dijon mustard instead of reaching for that salt shaker. 

Now it's time for dessert.  Choose dark chocolate as it's a great nibble for your sweet tooth and can be enjoyed melted over fresh fruit and Greek plain yogurt for a homemade ice cream without added sugar and processed ingredients.  Just be sure to reduce the amount of added sugar in your baked goods and enhance the natural sweetness by adding in more all-spice, cinnamon and almond extract.  You can also create fresh fruit purees and pumpkin puree to add into brownies, cakes and pies for a healthy gluten-free spin on the classic gluten-ous and calorie-laden desserts.  I like to add applesauce, pureed banana and pureed prunes for a tasty and fiber-rich way to add naturally gluten-free flavor to any dessert. 

Have a Happy and Healthy Gluten-Free Thanksgiving.