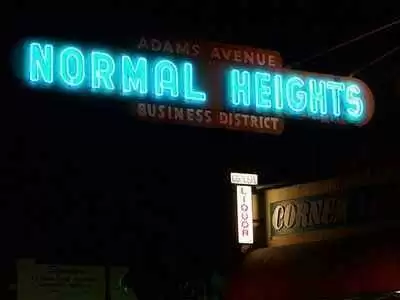 Caption: San Diego's Normal Heights business district. Photo: CC--Tobin
Celiac.com 09/01/2015 - Current medical guidelines recommend routine screening of liver function tests (LFTs) in patients diagnosed with celiac disease. However, there isn't much good data on rates of liver disorders in celiac disease outside of Europe. A team of researchers recently set out to accurately estimate rates of LFT abnormalities in celiac disease in the USA, and to assess the effect of a gluten-free diet on LFTs.
The research team included Natalia E Castillo, Rohini R Vanga, Thimmaiah G Theethira, Alberto Rubio-Tapia, Joseph A Murray, Javier Villafuerte, Alan Bonder, Rupa Mukherjee, Joshua Hansen, Melinda Dennis, Ciaran P Kelly and Daniel A Leffler.
---
Celiac.com Sponsor (A12):


---
---
Celiac.com Sponsor (A12-m):


---
To identify adult patients with biopsy-proven celiac disease, they used a prospectively maintained database, which they matched with healthy controls. They defined abnormal LFT levels for women and men based on the Third National Health and Nutrition Examination Survey (NHANES III) criteria.

The team gathered data on demographics, coexisting liver diseases, and laboratory work-ups including aspartate transaminase (AST) and alanine transaminase (ALT) values at the time of diagnosis and on a gluten-free diet. They later compared data from this group with data from 7,789 individuals participating in the National Health and Nutrition Examination Survey, 2009–2010, and applied univariate logistic regression, Wilcox on signed-ranks, Student's t-test, χ2, and Fischer's exact test for statistical analysis.

In 463 celiac disease patients with ALT or AST levels at the time of celiac disease diagnosis, 40.6% had elevated LFTs compared with 24.2% of treated celiac disease patients (P<0.001).

Similarly, nearly forty percent of celiac disease patients on the NHANES database showed abnormal ALT values compared with less than twenty percent of non-celiac patients (P=0.03).

Just over forty percent of individuals will show elevated LFTs at celiac disease diagnosis, but the vast majority, nearly eighty percent of those patients will show normal LFTs within a year and a half of adopting a gluten-free diet.

The team suggests that doctors check all celiac patients for LFTs, and coexisting liver disorder be considered in patients whose LFTs have not improved within a year on a gluten-free diet.

Source: