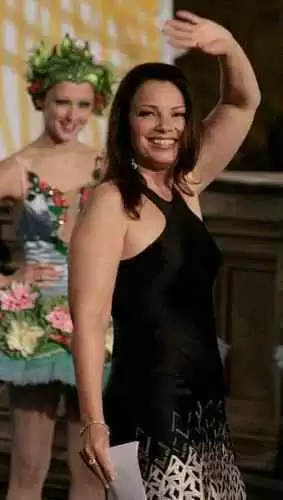 Caption: Photo: Wikipedia -- Manfred Werner
Celiac.com 12/14/2012 - In the latest celebrity gluten-free news, actress and comedian Fran Drescher has joined stars like Lady Gaga and Miley Cyrus, and athletes like Novak Djokovic and Andy Murray, in adopting a gluten-free diet.

Moreover, Drescher is going one step further and making her gluten-free diet a vegan one. However, it's not a desire to shed pounds that led Drescher to join the nearly 3 million people with celiac disease, and numerous others, in making her diet gluten-free. Rather, she was looking for a way to deal with exhaustion. When a doctor suggested prescription medications, Drescher decided that overhauling her diet sounded like a better place to start. So, she resolved to cut gluten, alcohol and animal products from her life. She has since lost 15 pounds, and her results have included more energy, and, she claims, better looking skin.
"I wasn't able to knock off that kind of weight in years. I just decided that I wasn't feeling well… and I went to a bunch of doctors, and everybody had different prescriptions for all my symptoms" said Drescher, "and I just decided, 'No more, I'm gonna do alternative. I'm gonna to switch up my act, eat differently, clean up my act.' And so I cut out alcohol… so that went, and I became gluten-free and vegan."
Stay tuned to see how this and other celebrity gluten-free diets turn out…
Read more and see the video at Examiner.com.