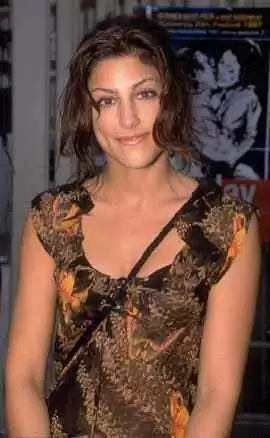 Caption: Photo: Wikipedia
Celiac.com 11/09/2012 - From their position in the public eye, celebrities can often draw attention to worthy causes, and to advocate for awareness of those causes more effectively than people outside the media spotlight.
After being diagnosed with celiac disease in 2008, actress Jennifer Esposito is on a gluten-free diet, and though she's still recovering from the damage to her small intestines, the 'Blue Blood' actress is emerging as a strong advocate for celiac awareness.
In a recent interview, Esposito told S. Z. Berg that she is still dealing with the "repercussions of improperly being diagnosed over the years." She points to a lack of awareness about the disease for consumers and that fact that only recently "is the medical field paying closer attention."
In a line that may be familiar to many people with celiac disease, she points out the long struggle to fully recover, even after adopting a gluten-free diet, noting that even though "many of the stomach issues and other ailment start to subside," celiac disease is an autoimmune condition that requires daily attention.
People with the disease, she says, must constantly be aware of what they eat and maintain a healthy lifestyle, along with healthy vitamin and mineral levels.
She says that her recovery has been "a long journey... and one that I still am on. The severe panic attacks have subsided as well as the depression, but with one bad meal they are ready and waiting to come to the forefront."
Her own struggles have left her "determined to educate and make people aware of the truth about this disease."
Ultimately, Esposito had her celiac disease confirmed through blood test and biopsy, but in some ways, that was only the beginning of her challenges. She says she believes that the medical industry needs to focus on "treating the individual person, the whole person, body and mind and not about money and mass studies of a disease."
She also bemoans what she calls the "one pill fits all mentality" of the medical profession, along with the fact that nutrition is something that gets addressed only after an individual has gotten diagnosed. She describes this as "negligence," and says that it has compounded the damage, and with it, her difficulties. "My life is dramatically different and my health is a struggle everyday," she says.
To help others with their celiac disease struggles, Esposito has created a blog called Jennifer's Way. There, she hopes to help people learn more about celiac disease and share the struggles and triumphs of her journey toward wellness.
Her blog includes tips, ideas, and advice on how to get started in this new life. I also share some of my favorite easy and good for you recipes that I've created.
She's also founded Jennifer's Way Foundation for Celiac Education to help make sure that going forward there is proper education about this disease in addition to helping to generate awareness to help people live a healthy gluten-free life.
Jennifer has a nonprofit organization, Jennifer's Way, to help educate the public about celiac disease. Her Twitter handle is @JennifersWayJE.
Developing Story: Breaking news indicates that Jennifer Esposito has been dismissed from her role in Blue Bloods, for reasons she says have to do with her celiac disease. This story is developing, so stay tuned...
Source: