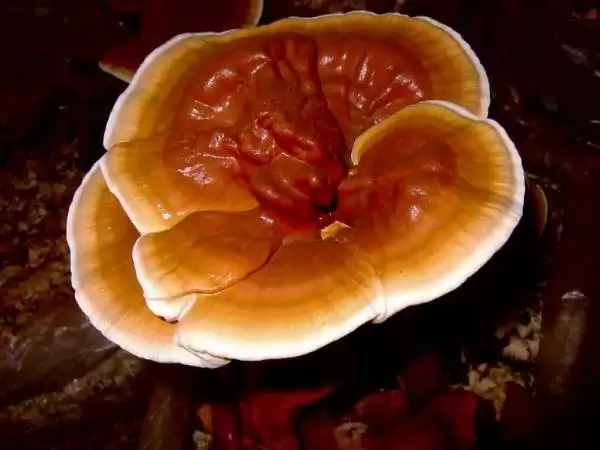 Caption: A reishi mushroom. Image: CC BY 2.0--Wendell Smith
Celiac.com 10/07/2020 - It has been two years now since I developed symptoms of celiac disease, and it's been a very difficult thing to go through. My symptoms first developed in August of 2018, and at first I didn't know what was wrong with me. I was losing so much weight – I got down to 87 pounds as opposed to my regular 105. I had no appetite and would have to force every meal down, even though my body kept trying to reject it. I got five cavities in my teeth in the span of six months, when prior to celiac, I had only ever had two. I had to sleep at least 14 hours every night to at least make it out of bed, but the rest of my waking hours were lethargic. I thought getting more exercise would help so I signed up for yoga classes but would have to sit out most of them because of how dizzy I felt. I would easily collapse if the position was slightly strenuous. 
When I discovered that my symptoms could be related to celiac disease, I was relieved at first. It wasn't cancer at least. And I didn't understand how severe the disease really was. I did not get a formal diagnosis, and just stopped eating gluten, and I thought that would be the answer. Sadly, it was not.
---
Celiac.com Sponsor (A12):


---
---
Celiac.com Sponsor (A12-m):


---
The elimination of gluten got rid of the aches and pains and helped me gain my appetite back, but my energy and cognitive functioning had not changed. Once you eliminate gluten after years of being sensitive to it, and especially in those with celiac disease, it can take time for your gut to heal the damage caused by the body's autoimmune reaction to gluten. I had read that it takes most people two years to heal that initial damage, but then of course I read of horror stories from people whose fatigue never went away. 

I was not going to let that be me. I knew there would be a solution.

Just by chance, I watched the documentary "Fantastic Fungi." The film talked about mushrooms having medicinal properties that have not fully been explored in the medical field, and where there are different mushrooms that have cured different illnesses, and some that people use to help treat cancer. After watching, I wanted to research if there were any mushrooms helpful in aiding auto-immune diseases. That is when I happened upon an essay about reishi mushrooms and how they are currently being studied as a potential cure for all auto-immune related disorders. I immediately bought a bag of red reishi powder to try it.

When the mushrooms arrived, I took half a teaspoon of it in my tea. I felt instant results. Suddenly my mind was sharper, in a way it hadn't been in a long time. I feared it may have been the placebo effect, but I kept it up. Half a teaspoon of powder every day in tea or smoothies. After a week, I saw myself sleeping less hours. I was able to focus, and my mood shifted for the better. After a month – I was my old self. I now have my energy mostly back. I've been able to work and concentrate. I can function off of a normal eight hours of sleep. And I am slowly but surely gaining weight. 

I have still had some gluten accidents since then. These mushrooms have in no way prevented my gut from further harm from gluten. But when I previously got glutened, it would be a week or two stuck in bed in pain. Now, it may only be a few days in bed, followed by a week or so of fatigue. So I am still extremely careful, and don't go to restaurants unless they are very strict about cross-contamination and and a fully gluten-free kitchen. Unfortunately the mushrooms aren't a cure and haven't allowed me to deviate from my gluten-free diet, but they have changed how I feel on an average day – which has been a life changer. 

There is no research yet on why reishi mushrooms help some people with auto-immune related fatigue, and I cannot guarantee they will work for everyone, but they have worked so well for me and have given me my life back. So I thought it was only responsible to spread the word about this magical fungus! If you have celiac disease and have had trouble getting your energy going again, I recommend that you try out reishi mushrooms. 

*Article edited on 10/19/2020 to clarify that the author is a self diagnosed celiac.