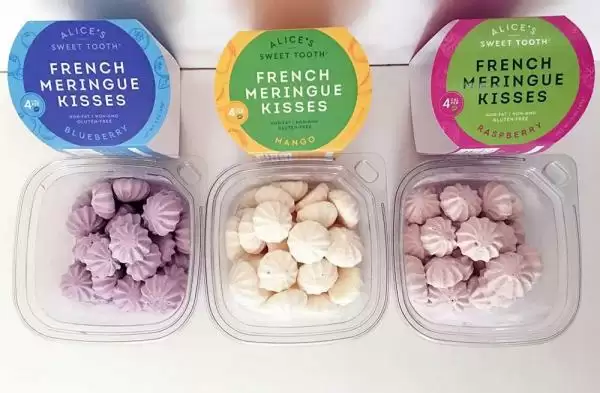 Caption: Alice's Sweet Tooth blueberry, mango and raspberry flavors.
Celiac.com 11/16/2018 - Who doesn't love a perfectly made French meringue? And perfect is the only way to describe Alice's Sweet Tooth French Meringue Kisses! 
Alice's Sweet Tooth creates an amazing assortment of naturally gluten-free kiss-sized meringues, including blueberry, raspberry, mango, chocolate chip, vanilla bean and cocoa. Each variety exactly captures its essence, the blueberry flavor explodes with the taste of fresh blueberries, the mango flavor tastes like fresh mangoes...and the raspberry flavor tastes like real raspberries, right down to the slight tartness that all raspberries have.
---
Celiac.com Sponsor (A12):


---
These meringues will melt in your mouth...there is just no need to bite them...just pop one in your mouth and let it melt on your tongue! If your plan is to only eat one or two you might as well forget it, because it won't happen! I was a half box into them before I realized it, mainly because they are incredibly light and non-filling.

Alice's Sweet Tooth French Meringue Kisses are made with organic ingredients, and are a perfect treat for any occasion. Each variety offers an over-the-top flavor experience that just can't be described...you really just have to try them!

For more info visit their site.