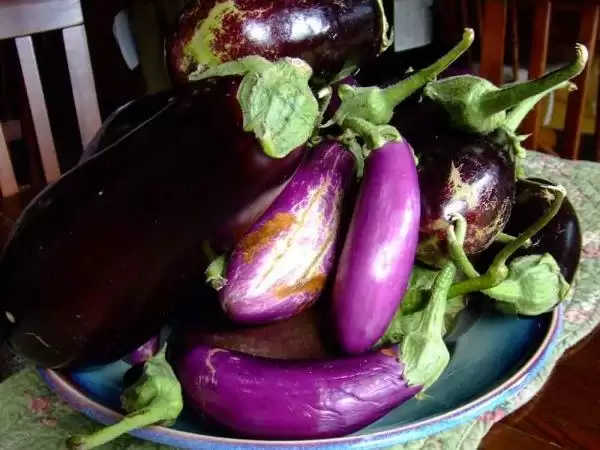 Caption: Image: CC--Jeff Peterson
Celiac.com 09/15/2018 - People have a love/hate relationship with the purple fruit called 'eggplant'. Eggplants, first cultivated in southern India and Sri Lanka, are also known as aubergine, Guinea squash, melazana, and 'poor-man's caviar'. Like potatoes they are members of the nightshade family, and despite the fact that we all consider eggplant to be a vegetable, biologically it is defined as a berry, and therefore it is a fruit.
When selecting the fruit, select ones that are firm to the touch, have a smooth and shiny skin and are heavy. Avoid those with brown or soft spots and have a dull color. Gently push with your thumb or forefinger. If the flesh gives slightly but then bounces back, it is ripe. If the indentation remains, it is overripe and the insides will be mushy. If there is no give at all, the eggplant was picked too early. Once you bring it home, avoid placing it near tomatoes and apples, as they give off a gas that quickens the ripening process. Try to use the eggplant within two days of purchase.
---
Celiac.com Sponsor (A12):


---
There are several cooking hints that will make your 'eggplant experience' more tasteful. Do not cook this fruit in an aluminum pan as it may cause discoloration (both of the pan and the fruit!). The skin is edible on small, younger plants, but should be removed on coarser, older ones. Once you cut the eggplant and cook it right away because the flesh will brown (similar to cut bananas). This fruit absorbs oil very easily, so it is recommended that you coat the slices with cornmeal before frying or baking. To help reduce the bitter flavor in older plants, 'de-gorge' the eggplant—Slice the eggplant into ½-inch pieces, salt well, then weigh down each slice in a colander to allow the liquid to drain out of the eggplant for 30 minutes—then rinse with cold water and pat dry.

Equivalents and Nutritional Value—one pound of eggplant equals 3½ cups of diced eggplant and 1¾ cups cooked eggplant. One medium eggplant weights about 1 pound. It contains vitamin C and potassium, has anti-bacterial and diuretic effects, as well as flavanoids (cancer fighting antioxidants). One cup cooked eggplant contains 25 calories.

The different ways to prepare eggplant are limited only by your imagination. Cut it into matchsticks to add to a stir-fry. Cube it for vegetable stews (Ratatouille). Shred it to make fritters, or puree it for a hummus-style dip. You can also slice it lengthwise and grill it.

This fruit is probably most famous for the Italian rendition of Eggplant Parmigiana. But the Greeks have taken this dish one step further, 'Moussaka'. If you have never eaten this, it is a delight to savor. Lean ground beef may be substituted for the ground lamb. Three zucchini may be used in place of the eggplant (if you prefer). Even if you hate eggplant, you will love Moussaka.

The beauty of Moussaka is that this casserole may be made in advance, then covered and refrigerated overnight, or covered with foil and frozen—before you bake it (thaw in the refrigerator completely before baking). Time is precious for us all, and this concoction does take some time to assemble, but every moment is worth it. This makes an impressive side dish for company, it is perfect for a buffet table, or it can be used as a main dish for a family dinner.

The following recipe is from my "Wheat-free Gluten-free Reduced Calorie Cookbook". Traditional Moussaka is 'loaded' with calories and fat and cholesterol. This version is lower in calories and fat without sacrificing any of the delicious taste.

Moussaka (Greek Casserole Dinner)

Ingredients:
1 large eggplant, peeled
2 teaspoons olive oil
1 large onion, chopped
½ pound lean ground lamb
5 teaspoons tomato paste
¼ cup white wine
¼ cup chopped fresh parsley
1/8 teaspoon cinnamon
18 teaspoon salt
1/8 teaspoon pepper
1 tablespoon margarine
1 ½ tablespoon cornstarch
1 cup scalded 1% milk
1 egg beaten until frothy
1/8 teaspoon nutmeg
½ cup gluten-free lowfat cottage cheese
1/3 cup gluten-free corn muffin crumbs, dried
1/3 cup Parmesan cheese, shredded
Directions:
Preheat broiler. Cut the peeled eggplant lengthwise into ½-inch thick slices. Spray both sides of the slices with gluten-free nonstick spray; set on a broiler pan and broil until browned, turning once. Preheat oven to 350F. Heat olive oil in a skillet; add onion and sauté until lightly browned. Add the lamb and cook, breaking meat up with a fork, for 10 minutes or until the meat is browned. In a small bowl, stir together the tomato paste, wine, parsley, cinnamon, salt and pepper; add to the meat and simmer, stirring frequently, until all liquid has been absorbed. Remove from heat. Melt the margarine in a medium-size saucepan; blend in the cornstarch with a whisk. Slowly stir the hot milk into the cornstarch; cook over medium heat, stirring constantly, until thickened. Cool slightly, and then stir in the beaten egg, nutmeg, and cottage cheese. Spray a 9-inch square pan with gluten-free nonstick spray. Sprinkle the bottom lightly with 2 tablespoons of the corn muffin crumbs. Arrange alternate layers of eggplant slices and meat mixture in the pan. Sprinkle each meat layer with the Parmesan cheese and remaining corn muffin crumbs. Pour the cottage cheese mixture over the top. Bake 45 minutes or until the top is golden. Cool slightly before cutting. Makes 6 (4 ½ X3-inch) serving.