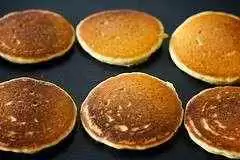 Caption: Photo: CC/D'Arcy Norman
I haven't had pancakes in over a year. I have tried many gluten-free, vegan pancake recipes only to end up throwing out a big pile of goo; which is why when I discovered this recipe, I was elated!  Not only does this gluten-free vegan pancake recipe actually work, it makes delicious pancakes that are gluten-free, dairy-free, egg-free, nut-free and low glycemic. I really like that this recipe does not call for egg replacer like so many other vegan pancake recipes.  I accidentally added 2 tablespoons apple cider vinegar instead of 3 teaspoons, but my pancakes still turned out delicious. I saved some batter and used it to make biscuits which also turned out fabulous!

Allergen-Free Whole-Grain Pancakes (Gluten-Free)

1¾ Cups Rice milk

⅓ Cup Grapeseed oil
1 Teaspoon Vanilla Extract
2 Tablespoons Ground Flax seed
2 Tablespoons Agave Nectar
3 Teaspoons Apple Cider Vinegar
1 Tablespoon Gluten-Free Baking Powder
½ Teaspoon Aluminum/ Gluten-Free Baking Soda
2 Cups Gluten-Free  All Purpose Flour Blend
Dash Himalayan Salt- or salt of your choice

To Make:
 Add rice milk to a medium glass bowl, stir in  ¼ cup grape seed oil, flax seed, agave, vinegar, and vanilla.

In a large glass bowl, sift the flour, baking soda, baking powder and salt.
Add liquid ingredients and mix well.
Heat your pan over medium heat and oil the pan.

Pour  about ⅓ cup the batter into the pan.
Cook the pancakes until the outside edge begins to look brown, and bubbles break on the surface of the batter, approximately 5 minutes.
Flip and cook the other sides for another 5 minutes, or until  thoroughly cooked.

Enjoy!