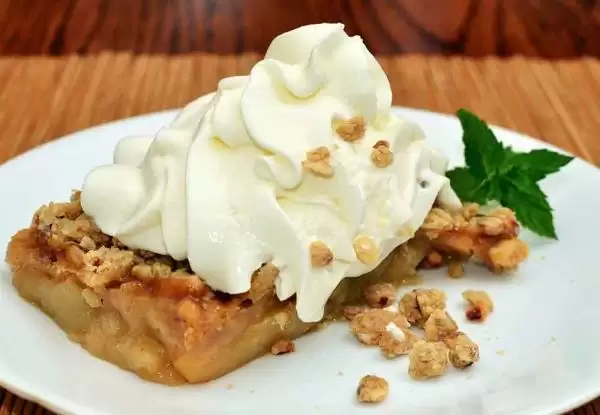 Caption: Image: CC--jeffreyw
Celiac.com 10/13/2018 - Two important principles sort of collided in my brain the other day.  One was the recent recommendation to increase our intake of whole grains based on the new food pyramid from the USDA.  The other was our interest in time-saving prepared foods to make dishes that are at least partially homemade.
About the same time these two ideas were melding in my brain, I realized how many wonderful new gluten-free cereals and crackers are now on the market.  I wondered if we could boost our whole grain intake by using ready-made gluten-free cereals or crackers in home cooking.  While not all of the cereals and crackers are truly "whole" grain, most are only partially refined and still quite nutritious.
---
Celiac.com Sponsor (A12):


---
---
Celiac.com Sponsor (A12-m):


---
So, here's my idea: One of my favorite desserts is a fruit crisp.  You can make it any time of the year, using fruits in season (in my case, fruits that have sat on the kitchen counter past their prime, yet are still edible).  In the fall it might be apples.  Winter is perfect for pears.  I like stone fruits during summer, such as peaches, plums, or cherries.  Or, if you're really desperate just open a can of whatever fruit appeals to you.

Revving Up Your Home Cooking with Ready-Made Cereals 
Here's where the new cereals come in.  Prepare the fruit filling according to any fruit crisp recipe or use the recipe I provide here.  For the topping, I like to toss Nutty Rice or the new Nutty Flax cereal from Enjoy Life Foods with maple syrup (or honey, brown rice syrup, or agave nectar).  Add ground cinnamon to taste and then sprinkle it over the prepared fruit.  Spray with cooking spray and bake at 350°F until the fruit is done and the topping is browned. 

Sometimes to speed things up, I microwave the covered fruit filling for 5-10 minutes on high, then uncover it, add the topping, and bake at 350°F for 15-20 minutes or until the fruit is soft and the topping is crisp and nicely browned.  I particularly like the Nutty Flax cereal because it uses both flax and sorghum for a nutritious combination.  Add extra spices such as 1/8 teaspoon each of nutmeg, allspice, or cloves for even more flavor.  

I also like to use the granola from Enjoy Life Foods as the topping for these fruit crisps. It's already sweetened and flavored, available in Cinnamon Crunch, Very Berry Crunch, and Cranapple Crunch.  All it needs is a little oil.  Of course, if you prefer, you can toss it with a little extra cinnamon plus some maple syrup (or honey, brown rice syrup, or agave nectar) to heighten the sweetness.  Add extra spices such as 1/8 teaspoon each of nutmeg, allspice, or cloves for even more flavor.  Sprinkle over filling and spray with cooking spray.

You can also add about ½ cup of this granola to your favorite bran muffins, cookies, or quick breads.  The granola supplies a nice crunch and additional flavor and nutrients.  Depending on your recipe, you may need to add more liquid to compensate for the cereal.  

Quinoa cereals by Altiplano Gold are packaged in individual serving packets, making them especially easy to incorporate into our baking.  They come in three flavors––Organic Oaxacan Chocolate, Spiced Apple Raisin, and Chai Almond––and just need boiled water to make a hot cereal.  Quinoa is a powerhouse of nutrients so I like to use the cereals in additional ways as well.

Using the same concept for the fruit crisp above, I just sprinkle the Spiced Apple Raisin or Chai Almond dry cereal on the prepared fruit filling.  Since the cereal is already sweetened and flavored, it only needs a little cooking spray.  Bake at 350°F for 15-20 minutes.  If your fruit needs additional cooking time (such as apples) try the microwave method I discuss above.

You can add ½ cup of the Chocolate flavor to a batch of chocolate brownies or chocolate cookies for added fiber and nutrients.  Depending on the recipe, you may need to add a little extra liquid to compensate for the cereal which counts as a dry ingredient. 

Creative Uses of Crackers in Home Cooking
New crackers by the whimsical name of Mary's Gone Crackers are chock-full of fiber and nutrients.  They come in Original and Caraway flavors and are a nutritious treat by themselves.  I also take them with me on trips because they travel so well. 

One creative way to use these crackers and appease your sweet tooth is to dip the whole Original-flavor cracker halfway into melted chocolate.  Ideally, let the chocolate-dipped crackers cool on waxed paper (if you can wait that long) or else just pop them into your mouth as you dip them.  You can also place a few crackers on a microwave-safe plate, top each with a few gluten-free chocolate chips and microwave on low power until the chips soften.  Let them cool slightly so the chocolate doesn't burn your mouth.  These crackers also work great with dips and spreads. 

Aside from dipping in chocolate, these crackers have additional uses in baking.  For example, finely crush the Original or Caraway flavor crackers in your food processor and use them as the base for a crumb crust for a quiche or savory tart.  The Original flavor would also work great as a replacement for the pretzels typically used for the crust in a margarita pie.  Just follow your crumb crust recipe and substitute the ground crackers for the crackers or pretzels. 

The crackers have very little sugar, but the Original flavor will work as a crumb crust for a sweet dessert as well.  Again, just follow your favorite recipe which will probably call for melted butter or margarine plus sugar.  Press the mixture into a pie plate and bake at 350°F for 10 minutes to set the crust.  Fill it with a no-bake pudding, custard, or fresh fruit.

The crushed crackers can also be added to breads and muffins for a fiber and nutrient boost.  Depending on how much you add (I recommend starting with ½ cup) you may need to add more liquid to the recipe.  

I've just given you some quick ideas for ways to get more grains into your diet and streamline your cooking at the same time.  Here is an easy version of the Apple Crisp I discuss in this article.  I bet you can think of some other opportunities to make our gluten-free diet even healthier with wholesome cereals and crackers. 

Carol Fenster's Amazing Apple Crisp

You may use pears or peaches in place of the apples in this easy home-style dessert. If you prefer more topping, you can double the topping ingredients. This dish is only moderately sweet; you may use additional amounts of sweetener if you wish. Cereals by Enjoy Life Foods and Altiplano Gold work especially well in this recipe. The nutrient content of this dish will vary depending on the type of fruit and cereals used.

Filling ingredients:
3 cups sliced apples (Gala, Granny Smith, or your choice)
2 Tablespoons juice (apple, orange)  
2 Tablespoons maple syrup  (or more to taste)
½ teaspoon cornstarch 
1 teaspoon vanilla extract
¼ teaspoon ground cinnamon
¼ teaspoon salt
Topping ingredients:
¼ cup ready-made cereal
¼ cup gluten-free flour blend of choice
¼ cup finely chopped nuts
2 Tablespoons maple syrup  (or more to taste)
2 Tablespoons soft butter or margarine
1 teaspoon vanilla extract
¼ teaspoon ground cinnamon
¼ teaspoon salt
Directions:
1.  Preheat oven to 375F.  Toss all filling ingredients in 8 x 8-inch greased pan. 
2. In small bowl, combine topping ingredients. Sprinkle over apple mixture. Cover with foil; bake 25 minutes. Uncover; bake another 15 minutes or until topping is crisp. Top with vanilla ice cream or whipped cream, if desired.  Serves 6.