Celiac.com 09/10/2013 - Tuna Nicoise is a simple, yet delightful salad that is also a delight to the eye. Anyone lucky enough to have enjoyed a delicious tuna Nicoise salad can appreciate where we're going with these French-inspired kebabs.
If you want to impress a special person, or just get fancy at your next grilling session, these Tuna Nicoise kebabs are sure to do the trick.
---
Celiac.com Sponsor (A12):


---
---
Celiac.com Sponsor (A12-m):


---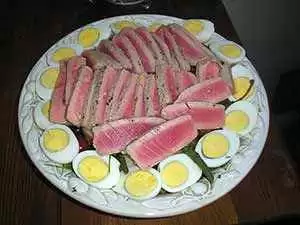 Sure, they take some prep, but they deliver a beautiful meal that will have your guests singing your praises all day long.

Ingredients:
2 pounds yellowfin or bluefin tuna loin
½ pound red potatoes, scrubbed and cut lengthwise into 1/4-inch thick slices
½ pound haricots verts, or small, thin green beans, ends trimmed
2 tablespoons red wine vinegar, divided
2 teaspoons Dijon mustard
1 tablespoon plus 1 teaspoon olive oil, plus more for brushing grill
10-12 kalamata olives, pitted and halved
10-12 green brine-cured olives, pitted and halved
½ pound Roma plum tomatoes, cut into 1-inch cubes
1 red bell pepper, cut into 1-inch pieces
½ cup thinly sliced red onion
1 small zucchini, cut into ½-inch-thick rounds
1 small yellow summer squash, cut into ½-inch rounds
4 large hard-cooked eggs, peeled and quartered
1 teaspoon salt
1 teaspoon ground black pepper
1 dozen (8-inch) wooden skewers, soaked in water 30 minutes
Directions:
In a small saucepan, cover potatoes with 2 inches water, and bring to a boil. Simmer 15 minutes or until fork-tender.
Remove potatoes and place in a bowl. Reserving the cooking water.
Slice potatoes in half, and toss with 1 tablespoon vinegar. Arrange on a platter.
Add the green beans to simmering water; cook 4 minutes or until crisp-tender. Remove from pot, and rinse with cold water until cool. Drain again and set aside.
Whisk together remaining 1 tablespoon vinegar with mustard in a small bowl, and add olive oil in a slow stream until well-combined. Transfer 2 teaspoons vinaigrette to a bowl, and toss with tuna to coat. Whisk remaining vinaigrette with 1 tablespoon hot water and olives.
Place tuna on two or three skewers, and then individually skewer each group of vegetables, so all zucchini together, all olives, peppers, etc.
Start vegetables first, turning occasionally, as they grill over moderate heat for 6–8 minutes or until vegetables are tender. Add fish in the last few minutes. Be sure not to overcook the fish. Remove when done.
Remove fish and veggies from skewers, and place on platter with eggs.
Drizzle with anchovy vinaigrette, and serve.
Anchovy Dressing:
1 anchovy fillet, drained
1 large free-range egg
2 teaspoons fresh organic lemon juice
2 teaspoons capers, drained and chopped
½ teaspoon chopped garlic
½ teaspoon gluten-free Dijon or brown mustard
½ cup extra-virgin olive oil
1½ tablespoons minced shallots
½ teaspoon Worcestershire sauce
â…› teaspoon kosher salt
â…› teaspoon freshly ground black pepper
Directions:
In a medium bowl, use the back of a fork to mash the anchovy, salt, pepper, and garlic into a paste.
Add the egg and whisk well to blend.
Add the lemon juice and mustard, and whisk well.
Add the oils in a steady stream, whisking constantly to form a thick emulsion.
Add the shallots, capers and Worcestershire, whisk well, and adjust the seasoning, to taste. Cover and refrigerate until ready to use.