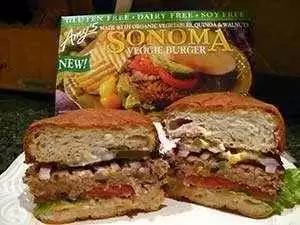 Amy's recently came out with their "Sonoma" Veggie Burger, which is not only gluten free, but soy and dairy free as well. The Sonoma veggie burger is packed with organic whole ingredients so there was a level of comfort knowing exactly what I would be putting into my body.  I am not a vegetarian, but I am trying to eat more health consciously, so I thought I would give them a try.

I wanted to toss them on the grill, but the weather was not cooperating, so I just popped them in the oven for about 5 minutes each side and "ta-da," they were done.  The Sonoma Veggie Burger was well-seasoned and had a nice nutty quality that is usually found in veggie/grain-based patties.  The outside of the patty was firm and slightly crisp, with a semi-soft interior. 
---
Celiac.com Sponsor (A12):


---
---
Celiac.com Sponsor (A12-m):


---
I piled on the fixings and was about to dig in when the smell had lured my two non-celiac, meat-eating children into the kitchen (despite the fact that they had just eaten).  I gave them each a bite and both girls said it was good.  My youngest actually requested that I make Amy's veggie burgers next time it's burger night – no lie!

Visit their site for more info: www.amys.com.

 

 


Note:Articles thatappearin the "Gluten-Free Food & SpecialtyProduct Companies" section ofthis site are paid advertisements. Formoreinformation about this seeour AdvertisingPage.