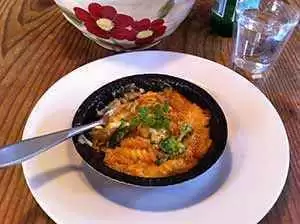 Who said gluten-free frozen foods never taste good and fresh? When I had my first bite of Amy's Broccoli and Cheddar Bake I could not believe that it was a frozen product. The tender rice pasta was coated with a creamy, aged English cheddar sauce, and the green organic broccoli tasted very fresh and crisp, and it was a very healthy addition. This product is not only gluten-free, but is also high in protein, vitamin A, C, calcium, and good source of iron, so it's very nutritious.

This bowl is simply a convenient food for me, as I am a working mom, and it allows for a quick meal when I have no time to cook. I would defiantly feel good serving it to my whole family at any meal time. It is very easy to prepare—I simply just remove the over-wrap and put the bowl into the oven, wait a few minutes and our meal is ready! I would recommend cooking these in a conventional oven for an even better taste.
---
Celiac.com Sponsor (A12):


---
---
Celiac.com Sponsor (A12-m):


---
I'll keep these on hand for my family. I would say that this is a five star gluten-free frozen food, and the best broccoli and cheddar bake I have tasted. I would like to say thank you to Amy's for creating this gluten-free meal with all the flavor and goodness of homemade cooking.

Visit their site for more info: www.amys.com.

 

 

Note: Articles that appear in the "Gluten-Free Food Reviews"  section of this site are paid advertisements. For more information about this see our Advertising Page.