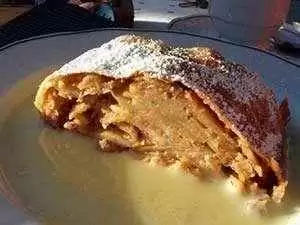 Caption: The finished apple strudel. CC--acme
Here's a fun n' tasty Gluten-Free and Dairy-Free recipe for Apple Pumpkin Strudel that is quite unique from your traditional apple pie or apple crumble....perfect for the holidays or for a casual dinner party dessert. Enjoy!
Pumpkin Apple Strudel

Gluten-Free and Dairy-Free

Makes 8 Strudels
---
Celiac.com Sponsor (A12):


---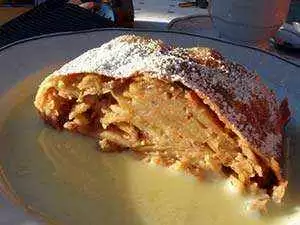 Ingredients:
 8 large organic Granny Smith apples, peeled and sliced
 1 (15 oz.) can pumpkin puree
 1 Tbsp. sugar
 1/4 cup fresh rosemary, very finely chopped
 1/4 cup sugar
 1 Tbsp. ground cinnamon, plus more for topping
 1/6 tsp. all-spice
 1 1/2 cup Gluten-Free All-Purpose Flour (I used Bob's Red Mill)

 1 tsp. baking powder
 1/4 tsp. sea salt
 1/4 tsp. fresh organic lemon zest
 2 Tbsp. freshly squeezed organic lemon juice
 1/4 tsp. gluten-free almond extract
 2 large eggs
Directions

:

Preheat oven to 350 degrees F.  Spray a baking dish with nonstick baking spray.  Sprinkle with 1 Tbsp. sugar and rosemary.  Add sliced apples and pumpkin puree; spread evenly.

In a large bowl, combine flour, sugar, baking powder, sea salt and orange zest.  Add orange juice, almond extract and egg; mix well to combine and form a mealy texture.  Transfer mixture on top of apples in the baking dish.  Sprinkle with additional ground cinnamon.
   
Bake for 45-60 minutes or until golden brown.

Enjoy!