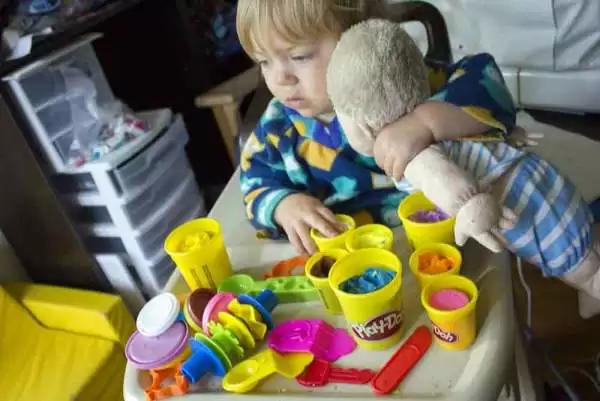 Caption: A child plays with Play-Doh. Image: CC BY-SA 2.0--quinn.anya
Celiac.com 01/24/2020 - Kids with celiac disease need to follow a gluten-free diet, and generally need to avoid exposure to gluten that might trigger a reaction. However, wheat, flour and gluten ingredients are common in school activities, particularly in early childhood classes like art and home-economics. Is that a problem? 
A team of researchers recently set out to measure gluten transfer from school supplies to gluten-free foods that a child with celiac disease may eat. Also, to measure efficacy of washing techniques to remove gluten from hands and tables. 
---
Celiac.com Sponsor (A12):


---
---
Celiac.com Sponsor (A12-m):


---
The research team included Vanessa M Weisbrod; Jocelyn A Silvester; Catherine Raber; William Suslovic; Shayna S Coburn; Blair Raber; Joyana McMahon; Amy Damast; Zachary Kramer; and Benny Kerzner. They are variously affiliated with the Children's National Health System, Washington, DC, USA; the Boston Children's Hospital, Boston, MA; and Temple Sinai Early Childhood Education Program, Summit, NJ, USA.

The team conducted five experiments to check possible gluten contact in classrooms: They signed up 30 participants, ages 2 to 18. All participants completed the Play-Doh and the baking project tests. Participants then split into three groups of ten each to complete the tests using paper mâché, dry pasta in sensory table, and cooked pasta in a sensory table. 

After the activities, the team measured gluten levels on separate slices of gluten-free bread rubbed on subjects' hands and on table surfaces. Participants were then randomly assigned to wash their hands using soap and water, water alone, or a wet wipe. The team made repeat gluten transfer measurements from hands and tables using the R-Biopharm R7001 R5-ELISA Sandwich assay.

The researchers found that paper mâché, cooked pasta in sensory tables, and the baking project all resulted in gluten transfer significantly higher than the 20 ppm threshold set by Codex Alimentarius Commission. 

However, Play-Doh and dry pasta resulted in few gluten transfers to gluten-free bread above 20 ppm. The data showed that soap and water was the best way to remove gluten from hands, though they note that other methods are as effective in certain cases.

The team's study shows that the potential for gluten exposure during school activities is high for materials like paper mâché and wet pasta, and low for materials like Play-Doh and dry pasta. 

The team advises that schools provide gluten-free supplies for activities that rely on high-risk materials, and that they also have in place a viable plan to prevent contact with gluten. Making sure that kids, especially kids with celiac disease, wash their hands well with soap and water after any activity with these materials is always a good idea. 

Do you have a story about gluten exposure at school activities? Be sure to share it in our comments below.

Read more at Journals.lww.com