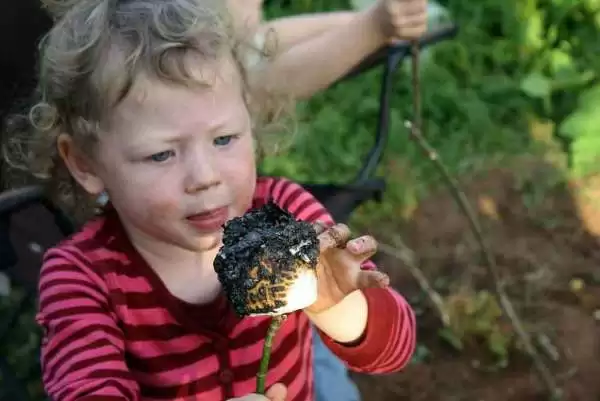 Caption: Image: CC--sand_and_sky
Celiac.com 06/05/2019 - Campfire and cookout season is upon us once again, and that means roasted marshmallow season is also upon us. People often ask us if marshmallows are gluten-free and safe for people with celiac disease.
The short answer is that nearly all major brand marshmallows sold in the United States are gluten-free and safe for a gluten-free celiac diet, even when not specifically labeled. Marshmallows made outside the U.S. may contain wheat starch or other gluten ingredients, so be careful if you're dealing with non-American brands.
---
Celiac.com Sponsor (A12):


---
---
Celiac.com Sponsor (A12-m):


---
In the U.S., there are two major marshmallow makers, Kraft Foods Inc. and Doumak Inc. Both make marshmallows without gluten ingredients. These companies make nearly all major marshmallow brands, like Kraft, Campfire, Jet, and store brands. They also make most marshmallows sold as private store brands.
Kraft
Kraft's policy is to disclose all gluten-containing ingredients on its labels. Although Kraft marshmallows are not labeled "gluten-free" or tested for trace gluten, Kraft says that their marshmallows are not subject to gluten cross-contamination in production.
Doumak
Doumak calls itself "The American Marshmallow Company," and makes Campfire brand marshmallows, as well as many private store brands, including Walmart and CVS brands. All Doumak marshmallows are gluten-free. 
As always, read labels, and check with manufacturers as needed, and trust your gut. 
Make Your Own Gluten-Free Marshmallows
Don't want to bother with major brands? Make your own gluten-free marshmallows at home with this recipe for Gluten-Free Vanilla Marshmallows from Blessherheartyall.com. 
Starbucks Gluten-Free Marshmallow Dream Bar
If you need a reliable marshmallow treat, try Starbucks Gluten-Free Marshmallow Dream Bar
Lastly, while nearly all marshmallows are gluten-free, products made with marshmallows may or may not be gluten-free, so read labels carefully. If you're dealing with a marshmallow product, like Peeps, say, be sure to look for clearly marked Gluten-Free labels.
Do you have a marshmallow story? Share it below!