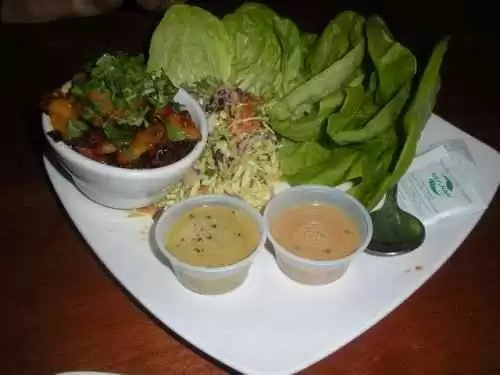 Caption: The finished asian lettuce wraps. Photo: Wikimedia Commons--Auburn Alehouse
Celiac.com 10/16/2014 - For those lucky enough to have traveled in Lao, Thailand, Cambodia, and Vietnam, these lettuce wraps might seem familiar. Variations on lettuce cups are fairly common in the cuisine of those countries.
These lettuce cups are easy to make, barbecue friendly, and are usually a big hit with party guests.
---
Celiac.com Sponsor (A12):


---
---
Celiac.com Sponsor (A12-m):


---
These are made with pork, but I've seen variations using chicken, beef, or even fish.

Ingredients:
16-20 Boston Bibb or butter lettuce leaves
1 pound pork loin, cut into small chunks
1 package of rice vermicelli, softened and drained
8-10 bunch green onions, chopped
4 sprigs fresh mint
1 tablespoon cooking oil
1 large onion, chopped
2 cloves fresh garlic, minced
¼ cup gluten-free hoisin sauce
1 tablespoon gluten-free soy sauce
1 tablespoon rice vinegar
1 dash red chile pepper sauce (Sriracha or similar)
2 teaspoons sesame oil
Directions:
Place rice vermicelli in boiling water. Cook to al dente, about 3 minutes. Remove from heat, rinse in cold water and
Rinse whole lettuce leaves and pat dry. Set aside.
Heat a large skillet over medium-high heat.
Cook and stir pork and cooking oil in the hot skillet until browned and crumbly, 5 to 7 minutes.
Drain and discard grease; transfer pork to a bowl. Cook and stir onion in the same skillet until slightly tender, 5 to 10 minutes.
Stir hoisin sauce, garlic, soy sauce, vinegar, and chile sauce into onions.
Add water, green onions, sesame oil, and cooked pork; cook and stir until the onions just begin to soften, about 2 minutes.
Place meat in a bowl and serve with cold, cooked vermicelli, and lettuce.
To eat, place a small amount of noodles, meat, and scallions, mint, as desired, and wrap in lettuce like a small burrito.