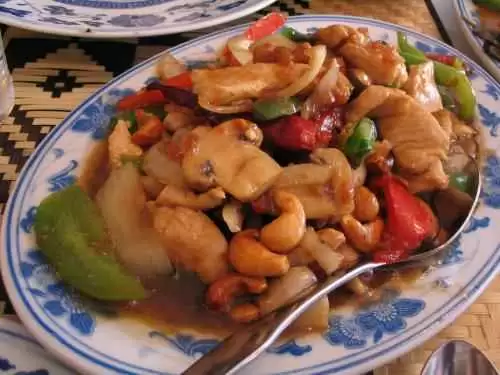 Caption: Photo: CC--Simon Law
Celiac.com 11/04/2017 - If you're looking for a quick, nutritious and lean gluten-free dish, then try this recipe for surefire stir-fry. It's easy, delicious and highly versatile. You can make with chicken, pork or beef, as desired. I bet you can use tofu if you like. You can use nuts of choice, or none at all. You can use snap peas instead of green beans. Whatever you do, serve this over rice for a guaranteed dinner winner.
Ingredients:
12 ounces chicken, pork, or beef, lightly salted, and cut into bite-size strips (about 1½-inches by ¼-inch)
8 tablespoons gluten-free soy sauce, split
3 tablespoons honey or brown sugar
2 teaspoons, sake or white wine, just a splash
4 garlic cloves, minced
3 fresh medium brown mushrooms, cleaned and sliced
¼ teaspoon dried crushed red pepper, as desired
1 pound green beans, trimmed, cut into bite size pieces
2 carrots, peeled, cut to matchstick-size strips
2 tablespoons cooking oil, like avocado or canola, corn, etc.
1 large red bell pepper, cut into bite-size strips
1 thumb peeled fresh ginger, sliced
½ medium onion, cut into wedges, sautéed
1 green onion, thinly sliced
½ cup lightly salted dry-roasted cashew halves, or sunflower seeds or anything like that
---
Celiac.com Sponsor (A12):


---
---
Celiac.com Sponsor (A12-m):


---
Directions:
Mix meat, 4 tablespoons soy sauce, 1½ tablespoons honey, 2 cloves of garlic, and crushed red pepper in medium bowl.

Whisk remaining 4 tablespoons soy sauce and remaining 1½ tablespoons honey in small bowl; set aside.

Cook green beans in large saucepan of boiling salted water until crisp-tender, about 3 minutes.

Add carrots to green beans in water; cook 1 minute.

Drain carrots and green beans.

Heat 1 tablespoon cooking oil in wok or large non-stick skillet over high heat.

Add onions, ginger, red bell pepper, mushrooms, and stir-fry 1 minute.

Add green beans, carrots, and remaining 2 cloves garlic, and stir-fry 1-2 minutes, until firm, but tender.

Transfer vegetable mixture to a dish.

Add remaining 1 tablespoon cooking oil to wok and allow to heat.

Add meat and stir-fry 3-5 minutes more, until cooked through.

Add the cashews, stirring briefly, about 30 seconds.

Add the soy sauce-honey mixture; stir until heated through, about 1 minute.

Season to taste with salt and pepper.

Transfer into the bowl with the veggies, and mix well.

Sprinkle with sliced green onions and serve over rice.

Serves about 4 people.