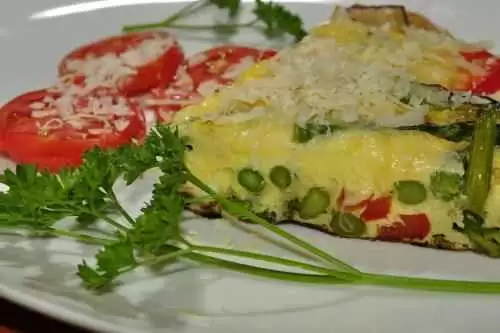 Caption: Photo: CC--JeffreyW
Celiac.com 10/20/2016 - I love a good frittata! A good frittata can hold its own at breakfast, lunch, or dinner, oh, and of course, at brunch.
This frittata marries eggs, ricotta cheese, Gruyere and chives with the lovely and now plentiful asparagus to deliver one very tasty dish.
---
Celiac.com Sponsor (A12):


---
---
Celiac.com Sponsor (A12-m):


---
Ingredients:
6 large eggs
½ cup ricotta cheese
2 tablespoons unsalted butter
2 shallots, sliced
½ teaspoon salt
½ teaspoon black pepper
1 pound asparagus, tough ends discarded, spears cut diagonally to 1-inch pieces
1 tablespoon fresh chives, minced
¼ teaspoon dried tarragon
1 cup shredded Gruyere or Swiss cheese
Directions:
Heat butter into a 10-inch cast iron skillet over medium heat.
Add shallots and cook until soft and clear, about 3 minutes.
Add asparagus and cook for 3 more minutes.
Beat together eggs and ricotta cheese, stir in the chives and tarragon.
Pour the egg mixture into the pan and cook until almost set, but still runny on top, about 4 to 5 minutes. While cooking, heat oven broiler.
Sprinkle Gruyere cheese over the eggs and place under the broiler until cheese is melts and and bubbles, and the center is set, about 6 to 8 minutes.
Remove pan from oven with oven mitts and slide frittata onto a serving plate.
Cut into wedges.
Mind the hot pan!