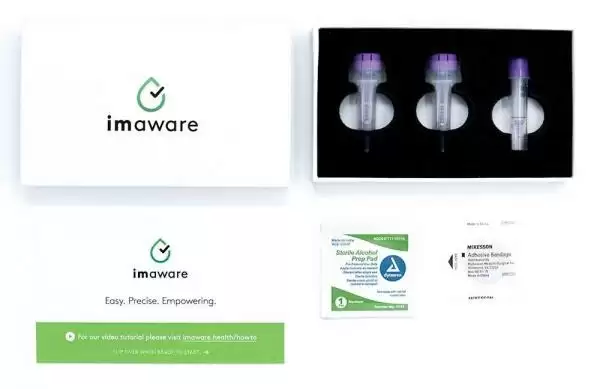 Caption: Image: imaware™ At-Home Celiac Disease Test
Celiac.com 12/06/2018 - My friend Tim has been wondering for quite some time whether or not he might have celiac disease, but, for whatever reason, he hasn't been able to convince his doctor to test him for it. To finally settle the matter he decided to order an At-Home Celiac Disease Test by imaware™. (See the video of our experience below).
Their web site was remarkably easy to use, and it took only a few minutes to order their home collection kit, which arrived a few days later. 
---
Celiac.com Sponsor (A12):


---
When he opened the At-Home Celiac Disease Test he discovered a beautifully packaged home collection kit that included two instruction cards on top. The first instructed him to watch an online video to see how to properly collect the sample, and the second card included six "Tips for successful blood collection," which were covered in the video.

Tim followed each step in the video and after washing his hands used the lancet to prick his finger. He was able to easily collect around five drops of blood to fill the collection tube to the proper level.

After the sample was collected he put it in the return mailing envelope, which was included in the kit, and mailed it back to the imaware™ labs.  A couple of days later Tim received an email with a link to his test results. He followed the link to their secure site and logged back in to review his Celiac Disease Test Report, which was very clear and easy to read. 

It turned out that Tim's results were negative for celiac disease, which came to him as both a surprise and a relief. He found the whole experience very empowering, and was glad to be able to finally, in the privacy of his own home, answer a long-standing question by using a simple, precise imaware™ At-Home Celiac Disease Test. 

Visit their site for more info. 

Video review:

Visit their site for more info.