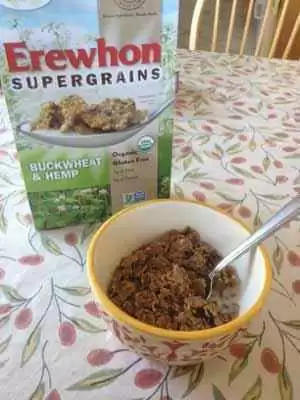 One of the biggest complaints I have about the gluten-free food industry is that corn is usually brought in to fill the gaping whole left by the removal of wheat. Corn tastes great and all, but personally, I prefer a more nutritious wheat alternative whenever possible, so long as it still tastes good (which many do, e.g. quinoa and buckwheat). With Erewhon Buckwheat and Hemp Cereal, Attune Foods has crafted something of a gluten-free 'corn flakes' alternative (just to be clear, corn flakes are NOT gluten-free), which is made from two superfoods that we should all eat more of: buckwheat and hemp seed.

Buckwheat is commonly found in top superfood lists because of its low glycemic index and high protein content. Hemp seed is a little less common in top superfood lists, perhaps because people associate it with cannabis (no, it will NOT get you high), but it is incredibly good for you. In fact, hemp is one of the only significant sources of gamma linoleic acid (a relatively rare essential fatty acid that helps boost metabolism). It is also worth mentioning that both buckwheat and hemp contain complete proteins, something that very few plants can boast (part of the beef I have with corn is that its protein is exceptionally low in lysine and tryptophan, making it a particularly incomplete protein). This mean vegetarians and vegans in particular need to start eating more hemp and/or buckwheat in order to maintain a healthy amino acid ratio.
Bottom line, this is one of the healthiest breakfast cereals you could be eating right now, gluten-free or not, and it tastes good!
For more information and a $1 off coupon valid through 12/31/12, visit their website.
Note: Articles that appear in the "Gluten-Free Food Reviews"  section of this site are paid advertisements. For more information about this see our Advertising Page.