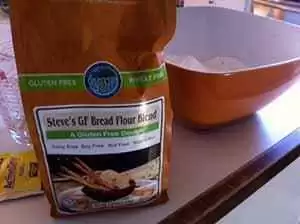 Celiac.com 10/30/2014 - I have always been a fan of Steve Rice and his Authentic Foods line of gluten-free products. Recently I had the opportunity to try out his new Steve's Gluten-Free Bread Flour Blend, and I must say that I'm very excited about this amazing new flour blend, and the many possibilities that if offers.
When Steve told me that he had been working for 20 years to perfect this mix, I knew that I was in for something very special, and my experiences with it were amazing.

I new something magical was happening at the point where you first begin to mix everything together...see below:

I know that Steve recommends using a mixer, but I don't have one. However, after mixing and kneading it for only a few minutes by hand it came together with the look and feel of a real gluten bread dough...it was very easy to work with, and in a very short time it looked like this:

I used the dough to make the outstanding pizza below, which had a spongy, delicate crust. When making it I found that I could easily pick up the dough and work with it to form the gluten-free pizza crust.

My wife used the remaining dough to make a cake, which came out light and fluffy, and it held together extremely well:

Be sure to give this great new product a try. I'm sure that you too will be blown away by how great it is, and how many things you will be able to make with it using Steve's many recipes offered on his Web site.