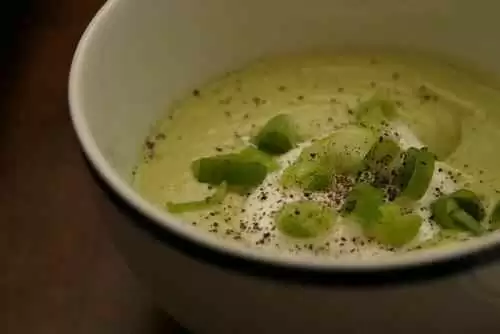 Caption: The finished avocado and tomatillo soup. Photo: CC-devlyn
This version of a cold Mexican soup will refresh both your palate and your culinary repertoire. It makes great base, and holds up nicely to other flavors. Adding roasted chili or jalapeño peppers or cherry tomatoes gives it a surprising bite. For a more rustic texture, omit the blender altogether. Dice the tomatillos into small chunks, and work the avocados well with a wooden spoon or fork. This soup makes wonderful meal on a warm day.
Ingredients:
3 ripe avocados
5 ripe tomatillos
3 cups chicken stock
3 tablespoons fresh cilantro, chopped
2 gloves garlic, chopped
1 ½ cups heavy cream
2 teaspoons lemon juice
Salt and pepper to taste
---
Celiac.com Sponsor (A12):


---
---
Celiac.com Sponsor (A12-m):


---
Directions:


Bring a pot of water to boil and cook tomatillos for five minutes, until tender. Roughly chop and add to a blender along with diced avocado and garlic. Add chicken stock and lemon juice. Blend until smooth. Work in batches depending on the size of your blender.

Transfer to a bowl and fold in cream and cilantro. Season with salt and pepper to taste.

Serve chilled.