Celiac.com 04/21/2015 - Bruchetta is one of those delightful Italian appetizers that I love to make at home. If you don't have gluten-free bread on hand, or just want to make a heartier meal, try this recipe for bruschetta chicken. 
Chicken is grilled, then simmered in the oven with fresh tomatoes, fresh basil, and Swiss cheese in this tasty low calorie, low-carb delight.
---
Celiac.com Sponsor (A12):


---
---
Celiac.com Sponsor (A12-m):


---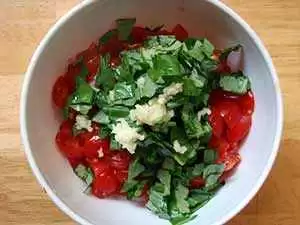 Ingredients:
1 pound chicken breast, boneless and skinless, pounded ½-inch thick
3 tablespoons vegetable oil
3 tablespoons olive oil
1 tablespoon balsamic vinegar
2 tablespoons fresh basil, chopped
¼ teaspoon garlic powder
¼ teaspoon onion salt
1 large tomatoes, chopped
salt, to taste
pepper, to taste
Swiss cheese slices for topping
Directions:
In a medium bowl, whisk together the olive oil and balsamic vinegar. Stir in the basil, garlic powder, onion salt and tomato.
Season with pepper to taste. Allow to sit for at least 15 minutes.
Season the chicken with salt and pepper.
Place the chicken in the skillet and cook for 5 to 7 minutes on each side,
Cook chicken on the grill or in a skillet until golden brown outside and no longer pink inside.
Remove from heat and place in broiling pan.
Spoon the bruschetta over the chicken. Top with swiss cheese.
Broil the chicken just long enough for the cheese to melt.
Serve.