Celiac.com 04/30/2015 - This recipe for basil chicken is easy to make, and sure to please. Take some chicken, smear it with basil pesto, bake it until done, top it with tomatoes and Swiss cheese, pop it in the broiler and bang! you've got dinner.
You can substitute mozzarella for Swiss cheese, and you can also cook it on the grill in stead of baking.
---
Celiac.com Sponsor (A12):


---
---
Celiac.com Sponsor (A12-m):


---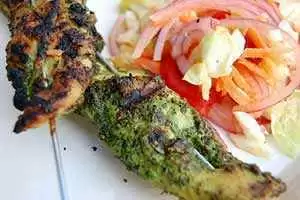 Ingredients:
4-6 boneless skinless chicken breast halves
¾ cup basil pesto (recipe below)
¾ cup Swiss cheese, shredded
3-4 Roma tomatoes, sliced
Salt and pepper to taste
Directions:
Heat oven to 400 degrees F.
Line baking sheet with heavy-duty foil. Spray with oil.
Place chicken in medium bowl.
Add pesto and toss until chicken is well-coated.
Place chicken on baking sheet.
Bake for 20-25 minutes or until chicken is no longer pink in center.
Remove from oven; top with tomatoes and Swiss cheese.
Switch to the broiler for 3-5 minutes or until cheese is melted.
Remove from oven. Sprinkle with salt and pepper. Serve with rice or gluten-free pasta.
Fresh Basil Pesto Recipe
Ingredients:
2 cups packed fresh basil leaves
2 cloves garlic
¼ cup pine nuts
¼ cup extra-virgin olive oil, divided
Kosher salt and freshly ground black pepper, to taste
½ cup freshly grated Romano cheese
Directions:
Combine the basil, garlic, and pine nuts in a food processor and blend until coarsely chopped.
Add ½ cup of olive oil and process until fully blended and smooth. Add salt and pepper to taste.
If you're serving it right away, then add all the remaining oil and blend until smooth. Pour the pesto into a large bowl and stir in the cheese.
If you intend to store pesto a few days, or if you want to freeze it, then put it into an air-tight container and drizzle remaining oil over the top.
If refrigerating, then add cheese before serving.
You can freeze pesto for up to 3 months. Just thaw it our, mix in cheese, and serve.