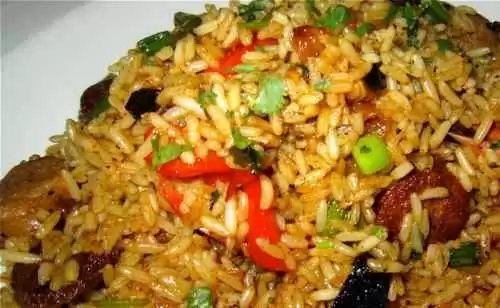 Caption: Baked sausage and wild rice anchor this memorable dinner dish. Photo: CC--Anokarina
Casserole season is upon us once again. This baked sausage and wild rice is just the thing for a chilly fall night.
Ingredients:
12 ounces mild pork sausage 2 cups cubed, cooked chicken 1 cup chopped onion 8 ounces sliced fresh mushrooms 1 can sliced water chestnuts, 8 ounces, drained ¼ cup potato starch â…› teaspoon pepper 1½ cups gluten-free chicken broth ¾ cup whole milk
¾ cup long grain and wild rice blend, (such as RiceSelect Royal Blend, Texmati White, Brown, Wild, and Red Rice)
½ cup Italian parsley, chopped
½ teaspoon garlic powder
½ teaspoon onion powder
½ teaspoon salt
½ teaspoon pepper
---
Celiac.com Sponsor (A12):


---
---
Celiac.com Sponsor (A12-m):


---
Directions:
In a 12-inch skillet, cook sausage and onion until sausage is brown. Drain off fat.

Add sliced mushrooms and water chestnuts and cook until mushrooms are tender.

Stir in parsley, garlic powder and onion powder.

Wisk in potato starch and pepper.

Add chicken broth and milk together.

Cook and stir until mixture is thickened and bubbly. Cook and stir for 1 minute more.

Remove skillet from heat. Add ½ teaspoon salt, as needed.

Meanwhile, in a saucepan, cook long grain and wild rice mix according to package directions.

Toss together the sausage mixture, rice, and chicken.

Transfer to a casserole dish.

Bake, uncovered, at 350F for 25 to 30 minutes, or until heated through.

Serve warm.