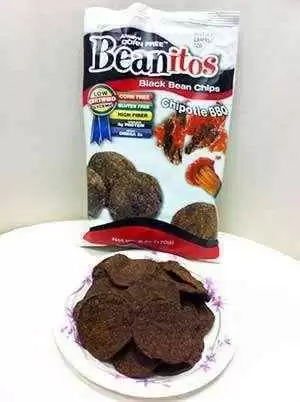 Caption: Beanitos makes a healthy gluten-free bean chip!
I recently tried Benitos gluten free Black Bean Chipotle BBQ Chips and boy was I impressed!  These chips are free from gluten, corn, soy and potato.  This is truly one of those products that seems too good to be true, and I would have never guessed that this great tasting chip is also low glycemic, high in fiber and omega 3's and packs 4 grams of protein for each serving!  It reminded me of a corn chip without the corn, and the seasoning added an extra "sinful" flavor to the chip.  Beanitos gluten free chips pack a great crunch and hold up beautifully to dipping.
Visit their website at www.Beanitos.com.