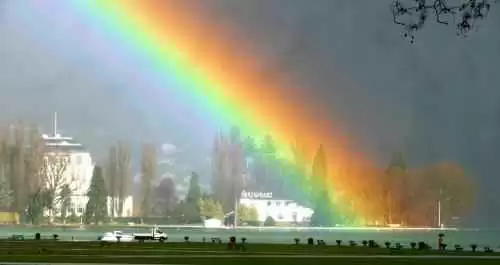 Caption: Photo: Mike George
Celiac.com 02/19/2018 - It's very important that people with celiac disease maintain a gluten-free diet. Still, there has been some data to suggest that some people with celiac disease may be "hyper vigilant" in their approach to a gluten-free diet, and that such extreme vigilance can cause them stress and reduce their overall quality of life. Can a more relaxed approach improve quality of life for some people with the disease?
A team of researchers recently set out to determine whether "extreme vigilance" to a strict gluten-free diet may increase symptoms such as anxiety and fatigue, and therefore, lower quality of life (QOL). The research team included Randi L. Wolf, Benjamin Lebwohl, Anne R. Lee, Patricia Zybert, Norelle R. Reilly, Jennifer Cadenhead, Chelsea Amengual, and Peter H. R. Green. They are variously affiliated with the Department of Health and Behavior Studies, Program in Nutrition, Teachers College Columbia University New York USA, the Department of Medicine, Celiac Disease Center Columbia University Medical Center, Harkness Pavilion New York, USA.
---
Celiac.com Sponsor (A12):


---
---
Celiac.com Sponsor (A12-m):


---
The team assessed the influence of QOL with energy levels and adherence to, and knowledge about, a gluten-free diet. For their cross-sectional prospective study, the team looked at 80 teenagers and adults, all with biopsy-confirmed celiac disease, living in a major metropolitan area. They assessed QOL using celiac disease-specific metrics. The team based dietary vigilance on 24-hour recalls and an interview. They based knowledge on a food label quiz. They used open-ended questions to describe facilitators and barriers to following a gluten-free diet.

Overall, extremely vigilant adults had greater knowledge, but significantly lower QOL scores than their more relaxed counterparts. Both teens and adults who reported lower energy levels had much lower overall QOL scores than those with higher energy levels.

To maintain a strict gluten-free diet, hyper-vigilant celiacs were more likely to avoid eating out, to cook at home, and to use internet sites and apps. For hyper vigilant eaters, eating out was especially challenging. Being hyper-vigilant about maintaining a strict gluten-free diet can cause stress and adverse effects in both teens and adults with celiac disease.

Doctors may want to look toward balancing advocacy of a gluten-free diet with promoting social and emotional well-being for celiac patients. In some cases, allowing a more relaxed approach may increase well-being and, thus, make dietary adherence easier. Obviously, people would need to tailor any relaxation in their gluten-free vigilance to make sure they weren't suffering preventable symptoms or doing themselves any harm.

Source: