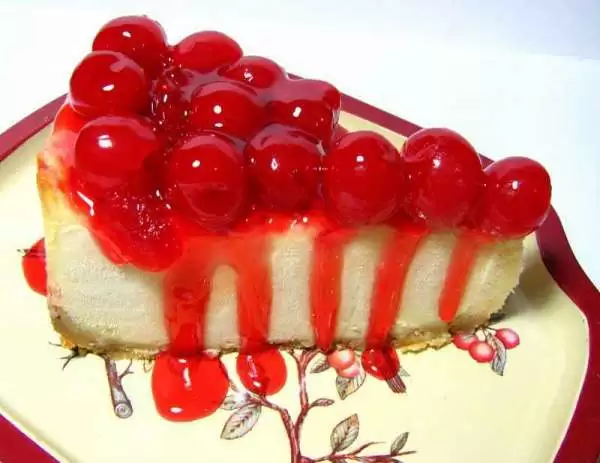 Caption: This no-bake cherry cheesecake delivers the goods. Photo: CC--Ken's Oven
Celiac.com 04/29/2017 - Spring is cherry blossom season, which means that actual cherries are still far enough off that we'll have to leave their deliciousness ahead, and turn to their canned cousins for this recipe. Turns out, that's not a bad thing. Canned cherries make a tasty cornerstone to this super quick, super-easy no-bake cheesecake. Enjoy!
Ingredients:
---
Celiac.com Sponsor (A12):


---
---
Celiac.com Sponsor (A12-m):


---
1½ cups fresh ground almond meal 
⅓ cup packed brown sugar
½ teaspoon ground cinnamon 
⅓ cup butter, melted
2 (8 ounce) packages cream cheese 
1 pint heavy whipping cream
1 tablespoon lemon juice 
⅓ cup white sugar
Canned cherries, for topping, as desired

Directions:
In a small bowl, stir together the almond meal, brown sugar and cinnamon.

Add melted butter and mix well.

Press into the bottom of an 8 or 10 inch springform pan.

Chill until firm.

In a medium bowl, beat together the cream cheese and lemon juice until soft.

Add whipping cream and beat with an electric mixer until batter becomes thick.

Add the sugar and continue to beat until stiff.

Pour into chilled crust, and top with pie filling.

Chill several hours or overnight.

Just before serving, remove the sides of the springform pan.

Top with cherries and serve chilled to people you really like.