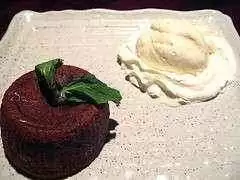 Caption: Photo: CC/misocrazy
This flourless gluten-free chocolate cake recipe will impress you and your guests! Easy and delicious, you cannot go wrong with this recipe!
Ingredients
1 package Chocolate Candiquick (16 oz.)
1 cup plus 3 tablespoons butter
1/2 cup sugar
6 eggs
1 cup unsweetened cocoa powder
1 tablespoon milk
1 tablespoon honey
1/4 teaspoon vanilla extract (gluten-free)
---
Celiac.com Sponsor (A12):


---
---
Celiac.com Sponsor (A12-m):


---
Directions for cake:
Preheat over to 375 degrees F.
Spray a 9-inch (or 12″) spring form pan with nonstick cooking spray, then line the bottom with a circle of parchment paper.
Spray the paper with cooking spray too, then set the pan to the side –
Place 1 cup (2 sticks) of butter (cut into chunks) and 8 oz (half of the 16oz package) Candiquick in the heat and serve microwaveable tray (put remaining Candiquick in separate container/bag).
Microwave on high for 45 sec- 1 minute, stirring often, continue in 15 sec increments- if necessary, until melted and completely blended
Now pour the Candiquick and butter mixture into a large bowl. Add sugar and mix well
Add the six eggs, one at a time, whisking after each one.
Sift the cocoa into the bowl.
Stir until blended.
Pour into springform pan and bake 30-40 min or until cake has risen and formed a thin crust
Chocolate Glaze recipe:
Break apart two squares from the unused Candiquick (you will have 2 squares left-over after you use these) and 3 tablespoons of butter in a small saucepan over medium low heat - stir until smooth.
Remove the glaze from the heat, then stir in vanilla, honey, and milk. Set aside to slightly cool off.
When the cake has cooled, pour the glaze onto the center and use a spatula or the backside of a spoon to smooth the glaze along the top and sides of the cake.
Chill the cake in the refrigerator, uncovered, for 30-60 minutes before serving to allow the glaze to set and it will also make the cake much easier to slice.