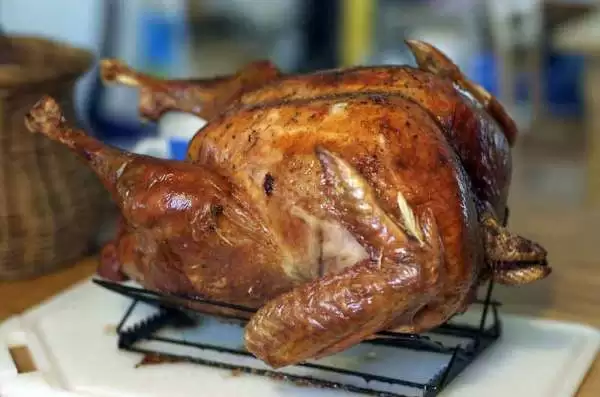 Caption: Image: CC BY 2.0--Tim Pierce
Celiac.com 11/16/2019 - Celiac.com's annual Gluten-Free Thanksgiving Guide dishes up a heaping helping of gluten-free information and recipes to help make your gluten-free Thanksgiving celebrations a smashing success!
Celiac.com offers an extensive list of safe gluten-free foods and ingredients, along with gluten-free shopping guides to make gluten-free shopping easier.
Gluten-Free Thanksgiving Turkey
Great Gluten-Free Brined Turkey recipe offers a fabulous way to prepare your gluten-free turkey that will leave your guests quizzing you about your secrets to such a moist, savory bird. Here's a list of gluten-free Thanksgiving turkeys from major manufacturers.
Gluten-Free Holiday Stuffing
Next, be certain to serve only gluten-free stuffing! Accept no substitute. Don't risk putting gluten-based stuffing in your turkey. Instead, astonish and satisfy all of your guests by preparing celiac.com's delicious Best Gluten-free Holiday Stuffing Recipe.
Gluten-Free Gravy
Celiac.com's Thanksgiving Holiday Gluten-Free Turkey Gravy recipe, is the perfect topping to your delicious stuffing. If you don't want to prepare your own, be sure to use a gluten-free gravy mix. Thicken homemade gravy with either corn starch or arrowroot flour. 
Be careful:  Many bouillon cubes contain wheat or gluten, so make sure to use only gluten-free bouillon cubes.
Gluten-Free Thanksgiving Pumpkin Pie
Top off your gluten-free Thanksgiving feast with our ever-popular recipe for Gluten-free Pumpkin Pie, or try this delicious Ginger Crust Pumpkin Pie.
Prepare easy, tasty gluten-free side dishes by browsing celiac.com's extensive listing of gluten-free recipes, where you will find side dishes to impress even the snootiest gourmet.
Gluten-Free Alcoholic Beverages
Here's our guide to Gluten-Free Alcoholic Beverages, along with Fifteen Common Questions About Gluten-Free Alcohol and Booze
Gluten-Free Side Dishes
Make easy, tasty gluten-free side dishes using Celiac.com's extensive listing of gluten-free recipes.
Here's a helpful list of Velveeta and Twenty Other Surprisingly Gluten-Free Foods.