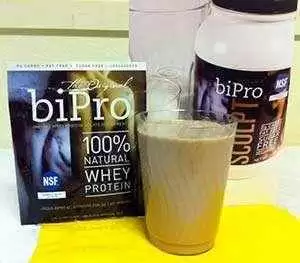 Needing extra protein in your gluten-free diet?  Then I would highly suggest trying biPro's gluten-free unflavored whey protein.  It is usually hard enough for me to find a gluten free-protein powder, but it is even more difficult to find one that is versatile and doesn't clump.  Recently I tried biPro and I decided to just pour some of the protein powder in my cup of chocolate milk and just mixed it up with a spoon.  Unless you try this for yourself, you probably won't believe me when I say that the chocolate milk tasted just like chocolate milk and the powder dissolved beautifully.
For more info visit: www.biProUSA.com


---
Celiac.com Sponsor (A12):


---
---
Celiac.com Sponsor (A12-m):


---

Note:Articles thatappearin the "Gluten-Free Food & SpecialtyProduct Companies" section ofthis site are paid advertisements. Formoreinformation about this seeour AdvertisingPage.