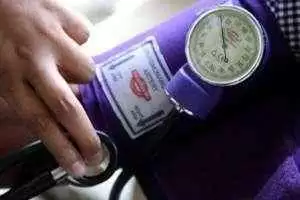 Celiac.com 06/25/2012 - If you have received a celiac disease diagnosis while taking heart pressure medication, it turns out you might not actually have celiac disease. An investigation led by Dr. Joseph Murray has shown that certain blood pressure medication can cause symptoms not unlike those commonly attributed to celiac disease, and going off the drug can stop the symptoms.

Between 2008 and 2011, 22 patients on the blood pressure medication olmesartan (sold as Benicar) exhibited clear symptoms of celiac disease: intestinal inflammation and abnormalities, chronic diarrhea and weight loss (median weight loss of 39 pounds). One of the patients lost an astounding 125 pounds, and fourteen of the patients exhibited symptoms so severe as to require hospitalization.
After taking the patients off olmesartan, all of their symptoms showed dramatic improvement. Eighteen of the 22 had subsequent intestinal biopsies, which revealed improvement in that area as well. It would seem then, that the medication causes celiac-like symptoms.
Some in the medical community have questioned the causal relationship of olmesartan to the symptoms though. As Dr. Franz Messerli of St. Luke's-Roosevelt Hospital, New York argues, "Only re-exposure [to the drug] can confirm the GI side effects were indeed due to olmesartan."
The sample size has also been called into question by Dr. Henry Black of NYU-Langone Medical Center, who claims that the side effects are highly uncommon and that he uses the drug all the time with no adverse effects. Some have even proposed that the reaction is the result of a drug allergy rather than symptoms related to the mechanism of the drug itself.
The conclusion one can draw from Dr. Murray's findings and subsequent criticisms, is that it is highly likely that olmesartan can cause celiac-like symptoms, but it is not entirely clear how often or why. Those who take it and experience such symptoms (or have gotten a celiac diagnosis while on the drug) should discuss switching to another medication with their doctors. It is still unclear if these symptoms are specific to olmesartan, or can be caused by the entire ARB family of drugs.
As Dr. Murray says, "it's really an awareness issue. We want doctors to be aware of this issue, so if they see a patient who is having this type of syndrome — they think about medications as a possible association."
Sources: