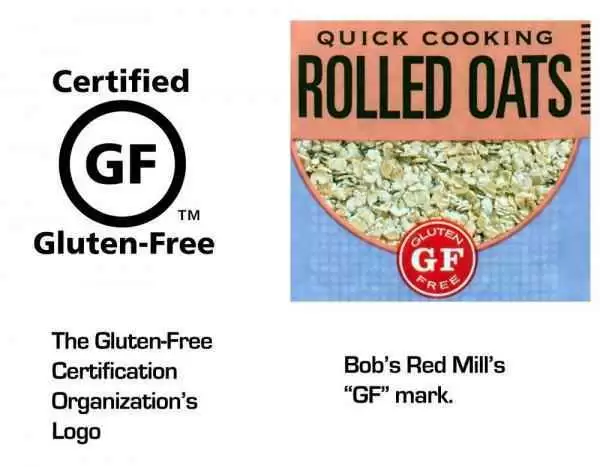 Caption: Here you can see the use of "GF" in both marks.
Celiac.com 06/08/2018 - A spat over gluten-free symbols turned legal recently, when Bob's Red Mill filed a lawsuit against the Gluten Intolerance Group of North America in U.S. district court in Portland. Bob's Red Mill is looking to continue using their current gluten-free logo without seeking permission from, or paying money to, the Gluten Intolerance Group (G.I.G.), which verifies and certifies gluten-free products through its Gluten-Free Certification Organization program. To date, the program has certified more than 30,000 products in 29 different countries.

For its gluten-free labeling, Bob's Red Mill currently uses a gluten-free circle symbol with "gluten-free" in larger letters in the middle. Above and below the gluten-free, in smaller font are the words "GLUTEN" and "FREE," respectively. For their certification label, The Gluten Intolerance Group uses a similar "gluten-free" in a circle, with the words "Certified" and "Gluten-Free" in smaller letters above and below the circle, respectively.

Bob's Red Mill said in court documents that on May 17 it received a cease and desist e-mail from the G.I.G. The e-mail stated that G.I.G. has used their mark consistently in commerce since 2005, and demanded that Bob's cease using their logo, saying it was similar to the G.I.G.'s logo and could confuse consumers into thinking the Group had certified the Bob's Red Mill products, which it had not. The Food and Drug Administration's says that a product labeled gluten-free must have less than 20 parts per million, and Bob's Red Mill says they adhere to that standard.

In court document, Bob's said that "complying with G.I.G.'s demand would require a significant redesign and marketing process," and that the "potential damages exceed $75,000." The suit by Bob's Red Mill claims that G.I.G. abandoned its application to register its gluten-free mark with the U.S. Patent and Trademark Office on Feb. 13 of this year, and asks the court to declare that G.I.G.s gluten-free mark is unenforceable and merely descriptive.

Basically, Bob's seems to be launching a preemptive lawsuit to put G.I.G. on its heels before G.I.G has the chance to sue Bob's. Stay tuned to see if this suit actually makes it to a trial, or if cooler heads prevail and the two sides work something out.

The Gluten Intolerance Group was founded in 1974, and offers consumer support, advocacy and education to the gluten-free community. Bob's Red Mill was founded in 1978, is a global provider of gluten-free milled grain products, and certified-organic milled grain products.

Disclosure: Bob's Red Mill and G.I.G. have been sponsors of Celiac.com.